Spring Sale: Double Your Revit Power with 2+2 Deal
Want to get hours of work done in minutes? Revit® automation tools make it easy to do just that. And it's twice as easy if they come on discount.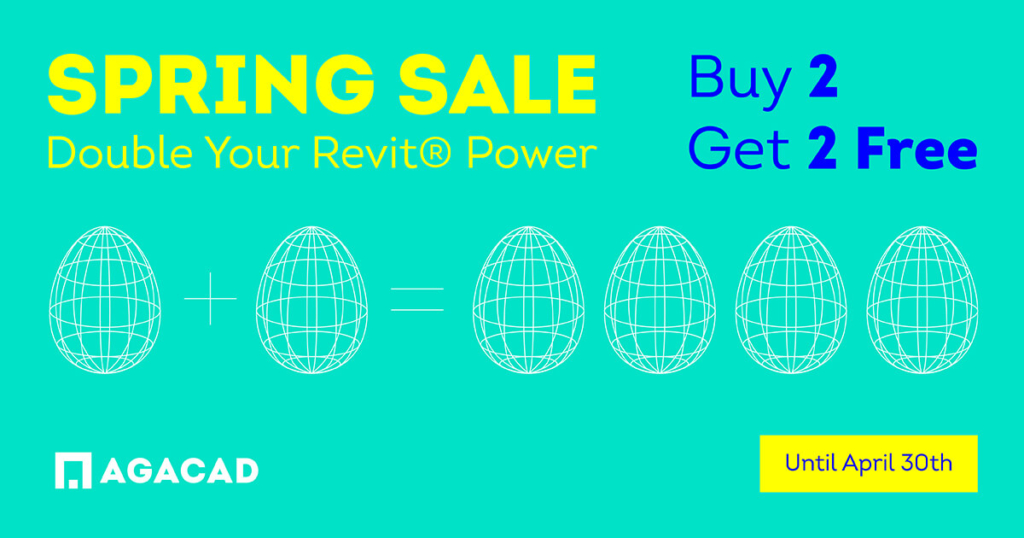 Spring into Productivity!
From March 30 to April 30, 2023, AGACAD has a special, one-time offer. Buy 2 products, and choose 2 more for free! So you can get four new licenses of eligible BIM solutions for the price of two.
Enjoy the spring, treat yourself to some tools for faster work, and empower your BIM team members by boosting their Revit toolsets. The clock is ticking, though, so make your selection while there's time.
More Tools, More Power
Double your Revit power with AGACAD industry-leading software that helps your team design, detail, document, and fabricate much faster and easier.
Create your custom 2+2 package to fit your company's specific needs, job roles, and preferences. Your pack could include 4 identical products or a mix. For example:
Choose the products you need to streamline your tasks and boost your BIM team's efficiency.
What benefits will you get?
Double your products and productivity for half the price. But you have to act by April 30, 2023!
AGACAD applications automate modelling and documentation tasks, increasing the accuracy of projects and giving Revit users more time, money, and even freedom.
Enhanced Modeling Freedom
Faster Design Completion
Time & Money Savings


Increased Project Profitability

Tax Deduction (USA only)
More flexibility in the creative process
Greater efficiency by eliminating repetitive BIM tasks
Prepare projects at least TWICE AS FAST. Increase the speed of some tasks by 10x, even 100x!
A precisely designed 3D model guarantees that the project will be error-free, on time, and on budget.
Business registered in the US? You may be able to minimize your tax obligation by deducting the cost of software purchases. (See IRS §179.) Find out how much you could save using the online calculator here.
How to get the best AGACAD discount
Take this limited-time opportunity to equip your team with the added power of Revit productivity tools. Contact us for a personalized offer:
The fine-print
Purchase 2 eligible products, choose 2 more of equal or lesser value for free. For purchases of more than 4 licenses, the full price applies to the 5th license and beyond. Offer valid only for new 1-year subscriptions of products listed in the promotion. Applies to new and existing customers. The requisite Support Plan must also be purchased. Support Plan includes training done by our BIM experts to ensure that you can use your software to its full potential right from the start. Annual subscription ensures you get all software updates during the active subscription period, versions of the selected product compatible with the 3 most recent versions of Revit, and technical support (read more in Terms and Conditions). Offer ends April 30, 2023.

---