BIM software to cut precise holes for MEP services & building structures in Revit® model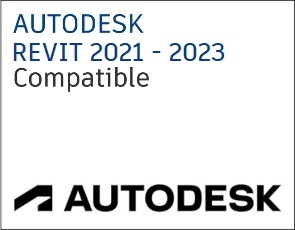 Cut Opening is used to generate and control opening elements in Revit® models. Openings can be created where ducts, pipes, cable trays and conduits intersect walls, floors, roofs, ceilings, beams or columns. This advanced BIM solution can create modified openings with holding details for structural beams. You get much faster design and drawings and increased precision to ensure accurate bills of materials and builders work.
      Compatible with Autodesk® Revit® 2023, 2022, 2021
Cut Opening processes interference check information between current, linked, or IFC files to get locations, type, and depth of clashes. It applies your predefined cut offsets and offsets for joining openings, and then automatically fills in your Revit® model with 10s, 100s, or even 1000s of openings with just one click. Like in any other tool provided by AGACAD, all configurations can be saved for later use and shared between users.
The software lets MEP and structural engineers and architects reserve spaces for openings by placing specific void or solid element families in the project. It lets you control all of the openings with a single control window while also allowing other project participants to review, accept or decline them and leave comments as needed.
---
CLIENT STORIES:
---
Cut Opening inserts fire dampers in accordance with information from clash detection and the fire rating of structural elements. It can also insert structural openings in structural walls even in cases where the architectural walls, windows and doors are separate from the structural model.
Automatically creates openings where ducts, pipes, cable trays or conduits intersect walls, floors, roofs, ceilings, beams or columns.
Automatically adds openings with predefined sizes in accordance with MEP line-based element sizes, categories and system classifications.
Automatically joins openings per predefined configurations.
Automatically inserts fire dampers where ducts clash with walls, floors, ceilings or roofs with fire rating.
Automatically inserts structural openings for separate architectural and structural models.
Enhances BIM teamwork and deliverables for integrated project delivery (IPD).
Cut Opening was developed and is continually being enhanced based on best international practices and the experiences of top Revit users. This Revit extension detects clashes and inserts the required openings in the model. It inserts fire dampers in walls with fire rating and openings in structural models where architectural windows or doors are placed. Just set the configurations, and let Cut Opening do the rest!

Ideal for:
Architects, Structural & MEP Engineers Expedited clash detection and hole cutting processes
Experienced BIM Manager In control of BIM model and clash detection
New Revit® users Easier opening creation than using simple Revit tools
Contractors Get accurate and detailed building model and building drawings

Powerful features:
COLLABORATION
Import interference check reports as .html files
Export .xml files to share opening configurations with Architects, Structural Engineers and MEP Engineers
Supports clash detection between current, linked or IFC files
Export data to external software
COMPLIANCE
Easy and fast insertion of openings required for MEP line-based elements, fire dampers for ducts, and openings for separate architectural and structural models
Predefined opening shapes, sizes, joining offsets in accordance with size of MEP line-based element
Model and opening changes can be managed with just a single click
EFFICIENCY
Automated marking of openings
Automated calculation of opening elevation
Easy sorting and marking of items in desired sequences or sets
Real-time clash detection and modification
---
Would you like a free quote or a live online demo given by one of our experts?

We provide FREE 30 minute demos for anyone who's looking to get more from their Revit 3D modeling.
Benefits
Time-Saving Modeling Process. Engineers can save time by instantly inserting hundreds of openings into their Revit model. For example, it might take a user 1 minute to position and add 5 openings manually. In that same time, the user could add 500 openings for filtered elements using Cut Opening.
Easy Control Process. All openings are grouped together in one convenient dialog where you can apply different filters. Automated navigator and section boxes let you see elements where the openings are or will be created.
Error Prevention. If any changes are made to the model, Cut Opening updates openings and allows you to avoid mistakes and control the design process throughout.
Revit users will save hundreds of hours per project using Cut Opening automation of routine functions and during early identification of design errors.
Testimonials
Hip Hing Construction Ltd., Hong Kong
"We've been using Cut Opening since 2015. It runs smoothly and helps us a lot to increase productivity at work. Thanks for your effort." (May 2020)
Head of BIM at Niras A/S, Denmark
"A big strength is revision control: you can get a list of all the modifications, and our engineers can get inside the model and quickly see what's changed since last time."
Project Manager at Good Year Engineering Ltd, HKSAR
"Great Customer Services on technical support after sale, timely support on the enquiry.
The product Cut Opening itself was also a great time saver tools for the daily operation. The functions suits for the industry on coordination and construction deliverables. Help a lot on man power allocation.
Looking for more good functions on coming version!"
Engineering Technician at NCC Deutschland GmbH, Germany
Cut Opening: "I really appreciate the great support AGACAD delivered. They solved our project specific problem with great dedication and patience. It saved a lot of time as comparing to creating openings one by one per hand."
Construction Architect & BIM consultant at Verkís Consulting Engineers, Iceland
Cut Opening: "I am really happy with this product and looking forward to see more."
Industrial Sprinkler Corp., Puerto Rico
Cut Opening: "Outstanding tool. Made my day... 'cause it is easy to use and when I run the Interference check (either in Revit or Clash detective in Navis) it saves time due to unnecessary clarifications and acceptance of these clashes.
Thanks for this tool that thinks of our needs as designers!"
ICT / BIM Coordinator at Balslev Consulting Engineers A/S, Denmark
Cut Opening: "This tool is worth the money and is a big time saver. I would say that it has already paid for its self on the first project. Approx 800 holes in concrete prefab elements and floors for Electrical, water and ventilation models."