Agacad has refreshed its portfolio of products for process improvement in digital construction and beyond. That includes our leading BIM software for Autodesk Revit. The emphasis, in line with our recent brand update, is on efficiency, simplicity, and enabling clients to meet all their project needs more fully.
Enabling innovations with focus
The software products we offer (and include in full custom solutions for clients who build with metal, timber and precast concrete, for example) enable process innovations mainly in three focused areas:
3D modeling
2D documentation
Management of design data
We have combined and categorized the software accordingly – to make choosing the right technology easier and to ensure users get all the functionality they need. For faster, smoother projects.
Agacad's complete product portfolio is now as follows: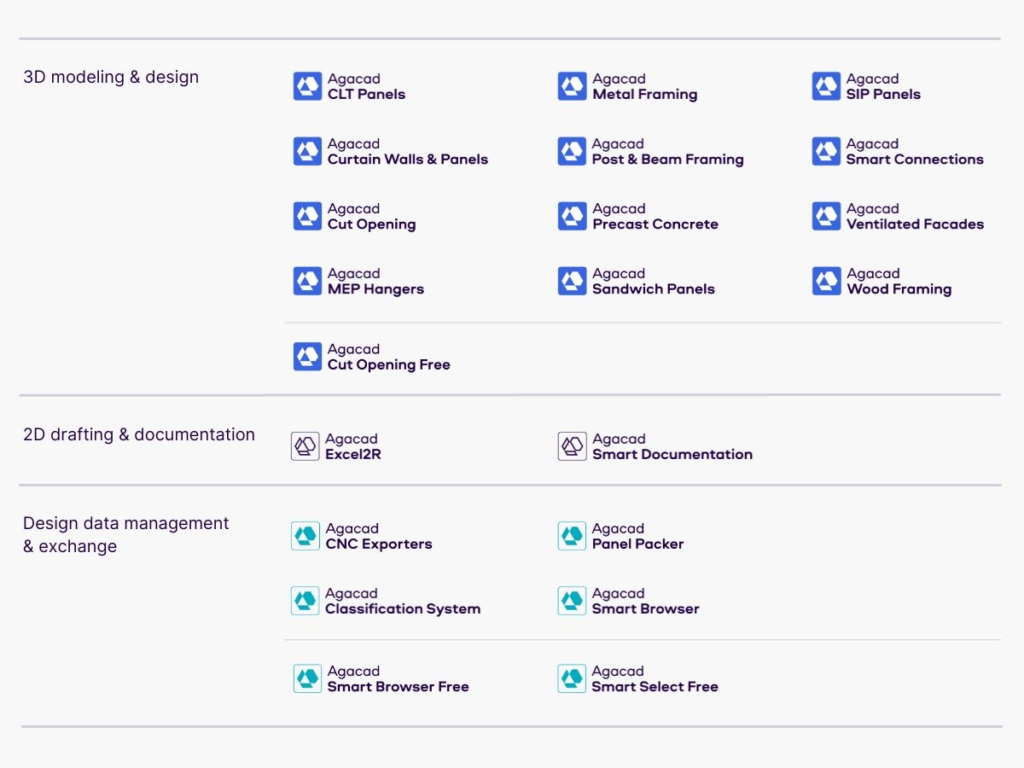 Design automation for framing is one area where Agacad has a lot to offer. We've been developing and fine-tuning that functionality for over 15 years, ever since we introduced our first framing tools for Revit in 2008. Note how we now clearly differentiate between the Wood Framing and Metal Framing products, and specialized framing software like SIP Panels, CLT Panels, Post & Beam Framing, Curtain Walls & Panels, and Sandwich Panels.
Products no longer on the list
You may notice that some former products are no longer listed in the updated Agacad portfolio.
A few have simply been renamed for greater clarity:
| Old name | New name |
| --- | --- |
| BIMAXON ICS | Agacad Classification System |
| Wood Framing CLT | Agacad CLT Panels |
| Wood Framing OAK | Agacad Post & Beam Framing |
| Wood Framing SIPS | Agacad SIP Panels |
Others have been eliminated as separate products, like the T4R Suite, Smart Assemblies, and Smart Views. Their functionality is still available in a newer, more comprehensive Revit add-in: Smart Documentation.
Similarly, the functionality of former beam, column and wall reinforcement tools is now available as part of the Precast Concrete package.
An opportunity to upgrade
We invite clients who currently are users of the T4R Suite, Smart Views and/or Smart Assemblies to upgrade to Smart Documentation free of charge for even greater efficiency gains.
For a full list of upgrade opportunities for discontinued products, see the table below:
| Discontinued product | Recommended action |
| --- | --- |
| Beam Reinforcement | switch to Precast Concrete |
| Column Reinforcement | switch to Precast Concrete |
| Wall Reinforcement | switch to Precast Concrete |
| Dynamic Legend | switch to Smart Documentation |
| Quick Dimensions | switch to Smart Documentation |
| RAS Manager | use until expiration |
| Smart Assemblies | switch to Smart Documentation |
| Smart Sheets | switch to Smart Documentation |
| Smart Views | switch to Smart Documentation |
| Smart Walls | Smart Documentation |
| Sort & Cope | use until expiration |
| Sort Mark | switch to Smart Documentation |
| T4R Suite | switch to Smart Documentation |
| U-Value | use until expiration |