Metal framing BIM software for automated light steel wall frame design in Revit® including optional CNC output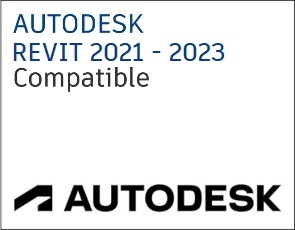 Metal Framing Wall makes metal framing of walls fast and easy with real-time full project updates in Revit®. Plus it generates views with automatic dimensions for wall panels or segments as well as accurate bills of materials and shop drawings. So quality production and accurate assembly on site are ensured.
      Compatible with Autodesk® Revit® 2023, 2022, 2021
Connectors, cuts, supports, and other details can be distributed based on predefined rules or connection types. They can then be modified or updated to suit the project design stage and the level of detail required. Wall frames and the layout of frame elements and details can be modified and updated whenever the project is changed. Dynamic update functionality can make changes to all wall frames of the same type at once.
Wall frame elements in the project can be easily marked based on their properties and locations in the wall layer. And information for fabrication can be automatically generated with all desired views, schedules, and drawings for each wall panel.

POWERFUL FEATURES
Automate light gauge steel wall framing work in Revit® using Metal Framing Wall+. This BIM solution helps you make optimal choices, move much faster, and avoid errors at every BIM stage – from design and documentation to wall panel fabrication and construction.
Create detailed multi-layer metal wall framing for any Revit project using predefined or custom rules and templates; solution supports C+C (incl. C+C Chamfered), C+U (incl. C+U Special) and U+U framing systems.
Frame multi-story houses 10 times faster than using standard Revit interface.
Easily configure supporting structure, openings, complex L or T connections, details, service hole positions, and more for straight or arched light-frame walls.
Automate sheathing layouts.
Frame architectural curtain walls with highly detailed elements and curtain panels (including complex fills and internal frames) precisely.
Freely revise your Revit model with simple selection of the elements and properties you want to modify; find structural and engineering clashes.
Perform structural analyses without leaving Revit at any stage of design process.
Generate shop drawings and cut lists with one click; get real-time take-offs and views, auto-sorting and dimensioning, and optional export to any CNC machines (Howick, Metroll, Pinnacle, etc.).
Smart Walls
Manage walls in Revit®: rapidly disassemble layers into different wall types, fully control joins and gap distances, split walls into separate panels with predefined settings, insert gravity points, and manage information with an export-to-Excel feature.
Manage information of all walls in your project.
Export filtered, grouped, or selected information (wall parameters) to Excel.
Decompose wall layers into separate wall types according to user's predefined configuration.
Fully control joins and gap distances between walls.
Insert gravity points.
Add additional information about real wall orientation, elevation, or coordinates.
Split walls at exact locations by using grid lines, openings, or other walls.
Split walls automatically by predefined panel size.
Automatically create openings throughout a Revit® model where ducts, pipes, cable trays and conduits intersect with walls, floors, roofs, ceilings, beams and columns. Cut Opening creates openings with special holding details for structural beams.
Automatically adds openings with predefined sizes in accordance with MEP line based element sizes, categories and system classifications.
Automatically joins openings with predefined configurations.
Automatically inserts Fire Dampers where ducts clash with walls, floors, ceilings or roofs with fire rating.
Automatically inserts structural openings for separated architectural and structural models.
Enhance BIM-team work and deliverables for integrated project delivery (IPD).
Renumber Revit® elements just the way you want, detect and renumber grids, determine swing direction and orientation (and add them as properties), recalculate shared coordinates, and much more.
Detects grid geometry and automatically renumbers them after any project change.
Renumbers of any Revit elements (Doors, Windows, Columns, Pipes, etc.) in a number of different ways.
Writes swing direction for the doors into the door's properties.
Writes flip/mirror orientation for the selected elements.
Creates new shared parameters, recalculates shared X, Y, Z coordinates.
Possibility to save numbering settings under the separate name.
Possibility to sort elements in Ascending/Descending order, and many more functions.
Smart Views
Get sections and elevation drawings for any building element easily using functions that create views and dimensions for selected elements quickly.
Uses configurations instead of manual work
Crops views to the element size
Creates automatic dimensions based on defined configurations
Applies view templates to all new views
Creates the number of views you set in the configurations for multiple selected elements
Renames views based on configurations
Apply dimensioning rules to any Revit view or selected elements in view
---
Want to find out if this is the right solution for you? Our professionals can help you quickly find out how this software will benefit your design process.
FRAME YOUR PROJECT!
Don't waste time reading technical documentation, and see that this is the solution for you! Our Expert will frame a part of your project, demonstrate software functionality, and share best practices and the most efficient way of framing, taking into account your current needs.
Duration: 2 hour. Cost: 280$/280€
You'll leave the demonstration with:
– Part of your project already framed;
– Your questions answered;
– 30-day software trial;
– Support during the trial period.
CLIENT STORIES
Developed in compliance with standards and guidelines:
AISI S100-07/S2-10, North American Specification for the Design of Cold-Formed Steel Structural Members with Supplement 2. American Iron and Steel Institute, Washington, DC.
AISI S200-07, 2007. North American Standard for Cold-Formed Steel Framing – General Provisions. American Iron and Steel Institute, Washington, DC.
NASH Standard – Residential and Low-rise Steel Framing, Part 1: Design Criteria. 2010.
NASH Standard – Residential and Low-rise Steel Framing, Part 2: Design Solutions. 2010.
Building Enclosure Design Guide– Wood Frame Multi-Unit Residential Buildings. Homeowner Protection Office (HPO), Vancouver, Canada, 2011.
AISI D110-07, Cold-Formed Steel Framing Design Guide, 2nd Edition. American Iron and Steel Institute, Washington, DC.
AISI D100-08, AISI Manual, Cold-Formed Steel Design. American Iron and Steel Institute, Washington, DC.
Pinnacle CNC Machine Specifications
Metroll Manufacturer and Supplier Resources
ClarkDietrich Steel Framing Product Specifications
CEMCO Specifications
PRODUCT BROCHURES
Learn more about the AGACAD products by reading our selected brochures.
Testimonials
Project Engineer at Clarus Architects, Sweden
"The software provided by AGACAD has become a huge advantage in my daily work. I use the Metal Framing Wall tool to produce clear drawings customized to our every need. Basic wall framing is done in an instant and if you ever need any complex solution in your project the possibilities are just a few clicks away.
The installation of the tool is a breeze and with AGACADS´s great customer support you are up and running in no time!"
Virtual Design/Construction Specialist at United Building Solutions, USA
Metal / Wood Framing software: "The custom join tool has a really nice user interface. I've used one in the past that ended up being trial and error because the UI didn't help the user understand what changes they were making. I'm happy to report that I was able to adjust my first join within minutes! I was also glad to see the preview adjust with each change and how each item drop down option made sense with how the items moved.
Great solution, I'm excited to set it up in my project! Your team does great work!"
BIM Lead Coordinator at WPI Builds, USA
"Why I like AGACAD framing tools:
• *LIVE* schedule!!!!
• Automated framing that puts in the right size studs without having to configure for all the different walls when needed for critical framing only option
• Automated Panel numbering system that numbers panels the way I want
• Easy workflow… no hiding critical options within a sub-menu...within another sub-menu, it's all right out front!!
• Easy-to-use customizable headers – even box and nested
• Easy-to-use customizable element labeling
• Being able to design complex panel systems
• Ability to make small changes in the panel with ease
• Add-on software that makes things even easier
• Other steel framing software I've used in the past are not even in the same league as AGACAD
• Quick turnaround with viable solutions and aid to my questions and concerns and always a with a helpful attitude."
Engineer at Morphy • Makofsky, Inc.
"I was able to make an extremely difficult project a success with the help of your team."
President of Preconstruction with Stiles LLC, USA
"Metal Framing Wall and Metal Framing Floor are great tools that let me keep up with the demands of working on multiple projects. My productivity has increased by 60%. [...] I look forward to using more AGACAD tools for Revit in the future as my company grows."
Managing Director at Bela Design Building, Australia
"It's the lifeblood of our off-site prefabrication and module-building practices, reducing labour costs while increasing accuracy. [...] I have found AGACAD to be considerate, helpful, responsive, respectful – in a way unlike any other business that I have worked with. All our dealings with the AGACAD team have exceeded expectations and renewed my faith that there are still people out there with great business attitudes."