What's new in Metal Framing Walls? Vertical/horizontal siding, beam/truss pockets, corner bracing & more
AGACAD's software is constantly being improved with newly-conceived features based on our clients' experiences and needs who are BIM professionals in their industries. Having received some requests regarding our metal wall framing software and thoroughly looking into the possibilities with our clients, we're ready to unveil several new and improved features that have been added to Metal Framing Wall+ and are available for all users. All you need to do is update the tool via the TOOLS4BIM Dock and then you'll be off and running with the latest functions for framing metal walls.
So, what's new exactly? Let's get right into it.
Load Additional Types
When you use the "Load Families & Schedules" command, only some example family types are loaded into the project:
However, if you need some additional family types, you don't need to look for those families and types through the native Revit "Load Family" dialog anymore. With the new update, you can just use the "Load Additional Types" feature found in the "Load Families & Schedules" window:
After the clicking on the button, you'll instantly be redirected into the family folder of the main framing elements where you can choose any family needed for the project:
---
Vertical and Horizontal Siding
With the new update, you can use Vertical and Horizontal Siding configurations for your project. This feature is especially powerful for creating highly-detailed ventilated facades: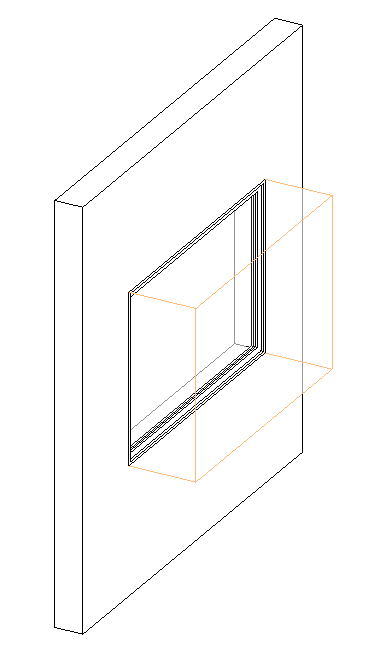 P.S. The easiest way to control cutting for siding elements is to create an additional void form inside the Window/Door/Opening family and tick the "Cut Bridging/Nogging with Opening Additional Void" checkbox in their Configurations under the "Modify Settings" tab.
P.S.S. In case you don't see standard configurations for the Vertical/Horizontal siding, you have to remove or rename the standard configuration folder as —C:UsersUsernameAppDataRoamingTools 4 RevitWall+M2015 Configurations — so that it will be replaced by the tool automatically with the new one, which includes configurations for both Horizontal and Vertical Siding. Then you can take Vertical/Horizontal configurations from that newly created folder and merge them with their own configurations for further work.

---
Beam/Truss Pocket Improvements
Various framing situations have been improved for Beam/Truss pockets. You can insert openings into walls and set faming configurations for those under the "Opening Framing" tab. Also, you can use AGACAD's Cut Opening tool for automated opening insertion.
---
Corner Brace
An additional bracing option has been added – Corner Brace. With this, you can create and control bracing elements between Studs, Plates, or Studs and Plates.
---
So, that's a look at what's new with our Metal Framing Wall software. Current users — be sure to download the latest release from the TOOLS4BIM Dock today! For those of you on the fence, we invite you to try it out! Take a free trial by downloading our TOOLS4BIM Dock below.
New to AGACAD? Welcome and thanks for reading! We offer a lot of solutions that make your life in Revit® easier – from Wood & Metal Framing to model management to MEP to Precast.
You're welcome to take a free trial of any of our BIM software solutions! Just download the TOOLS4BIM Dock for your version of Revit, open Revit, and select the tool you'd like to try out.
---
Related blog posts:
---
Personal Support to Secure Your BIM Benefits
The AGACAD team stands ready to work closely with you to ensure using TOOLS4BIM is always easy and effective. For less stress and more productivity. We value every client, striving sincerely to satisfy each one's individual needs. Read more
For more information about our software, check e-help in the TOOLS4BIM Dock and watch our webinars and getting-started videos on our YouTube channel. (We hope you'll subscribe!)
CONTACT US with questions and to get personal support!
---