The definitive BIM solution for designing sandwich panel envelopes in Revit® models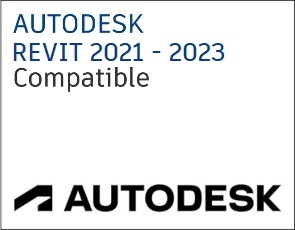 AGACAD Sandwich Panels brings a collection of powerful features and top-notch automation for efficient modeling, data management, and output. Create coordinated, consistent, and complete model-based designs for paneling, framing, sheathing, detailing, scheduling, and more. Use Sandwich Panels to drive accuracy and timesavings across the project lifecycle.
Sandwich Panels makes design and documentation fast and easy with real-time full project updates in Revit®. Plus it generates views with automatic dimensions for wall or roof panels or segments as well as accurate bills of materials and shop drawings. So quality production and accurate assembly on site are ensured.
Advanced automation and built-in best practices help BIM professionals make optimal choices, move much faster, and avoid errors at every stage – from design and documentation to fabrication and construction.
It's easy to quickly batch-add, modify, or mark the right elements or parameters, distribute details, flexibly manage openings and connections, and find clashes. Distribution of sandwich panels dynamically updates and adapts, ensuring that shop drawings and cut lists are always accurate.
      Compatible with Autodesk® Revit® 2023, 2022, 2021
Ideal for:
New and experienced Revit users, Revit technicians, architectural technicians, BIM consultants, coordinators, BIM managers and other BIM professionals.
Sandwich Panels is ideal for architectural and structural designers and also for builders and quantity surveyors who want to automate processes and save time and costs.
DESIGN
Sandwich Panels suite is ideal for modelling facades, roofs, and cladding of industrial facilities and commercial multistory buildings accurately and efficiently. The software greatly enhances the workflow by allowing for a database of configurations to account for varying wall and roof types. Unique detailing and panel distribution can be saved and re-used any time. Once modelling is complete, panels and additional elements are auto-generated. The result: an accurate BIM model ready for shop drawing preparation, quantity takeoffs, cost estimation, and even tendering.
DOCUMENT
Documentation for the entire building external envelope of sandwich panels, supporting framework and fixings can be generated with ease. Views, title blocks, tags, dimensions, and schedules are all produced effortlessly with the Create Assembly command. Drawings with applied graphics settings can be automatically generated for individual panels or entire wall/roof assemblies.
COLLABORATE
With additional use, our Cut Opening application facilitates team collaboration by pinpointing where MEP services, supporting structural components, and insulated sandwich panels clash; creating openings; and inserting the necessary components for all MEP services and building structures at the relevant intersections throughout the Revit model.
CONSTRUCT
With Sandwich Panels, it's easy to plan fluent transportation and installation of sandwich panels on any building structure. Having a final BIM model that is as accurate as possible means precise quantity takeoffs and panel cuts, so assembly on site is more efficient, less costly, and less wasteful. Additionally, our Panel Packer add-in enables to optimize manufacturing and logistics, helping to reduce time, costs, and CO2 emissions.
---
      Compatible with Autodesk® Revit® 2023, 2022, 2021

POWERFUL FEATURES
Automate light gauge steel wall framing work in Revit® using Metal Framing Wall+. This BIM solution helps you make optimal choices, move much faster, and avoid errors at every BIM stage – from design and documentation to wall panel fabrication and construction.
Create detailed multi-layer metal wall framing for any Revit project using predefined or custom rules and templates; solution supports C+C (incl. C+C Chamfered), C+U (incl. C+U Special) and U+U framing systems.
Frame multi-story houses 10 times faster than using standard Revit interface.
Easily configure supporting structure, openings, complex L or T connections, details, service hole positions, and more for straight or arched light-frame walls.
Automate sheathing layouts.
Frame architectural curtain walls with highly detailed elements and curtain panels (including complex fills and internal frames) precisely.
Freely revise your Revit model with simple selection of the elements and properties you want to modify; find structural and engineering clashes.
Perform structural analyses without leaving Revit at any stage of design process.
Generate shop drawings and cut lists with one click; get real-time take-offs and views, auto-sorting and dimensioning, and optional export to any CNC machines (Howick, Metroll, Pinnacle, etc.).
Manage walls in Revit®: rapidly disassemble layers into different wall types, fully control joins and gap distances, split walls into separate panels with predefined settings, insert gravity points, and manage information with an export-to-Excel feature.
Manage information of all walls in your project.
Export filtered, grouped, or selected information (wall parameters) to Excel.
Decompose wall layers into separate wall types according to user's predefined configuration.
Fully control joins and gap distances between walls.
Insert gravity points.
Add additional information about real wall orientation, elevation, or coordinates.
Split walls at exact locations by using grid lines, openings, or other walls.
Split walls automatically by predefined panel size.
Roof+
Automate metal framing roof work in Revit® projects. Robust features allow you to efficiently frame metal roofs, complete with roof joists, battens, valley joists, roof boards, and more. Plus, the software automates shop drawings, including sorting, tagging, dimensioning, and scheduling all frames.
Create your own rules and templates and use them for detailed, multi-layer, metal roof framing creation in Revit models.
Frame large roofs 10x faster than using regular Revit features.
Manage joists, rim joists, nogging, bridging, blocking, and bracing placement, and configure openings, details, service hole positions, and more.
Auto-distribute battens, secondary frames, and roofing.
Revise your Revit model as needed, simply by selecting the elements and properties you want to modify.
Track down structural and engineering clashes.
Cut and frame openings according to predefined rules.
Generate shop drawings and cut lists with just one click. Get real-time take-offs and views, plus automatic sorting and dimensioning.
Export to CNC machine.
Carry out structural analysis without leaving Revit.
Smart Connections
Add any number of face-specific intelligent details – which adapt to host-element changes – throughout BIM models.
Rule-based distribution of details and voids on any element surfaces.
Simple insertion of point-based and line-based details.
Host-element data can be read and used to modify detail families automatically.
Easily rotate/flip details in configuration window to get desired result.
Check whether host element has enough solid body for detail to be inserted.
Insert details according to gravity point.
Insert details at intersection points of other Revit elements.
Quick modification and updating of inserted details.
Automatically insert details based on a defined configuration name.
Smart Assemblies, used for workshop drawings, recognizes changes made by Smart Connections.
Create views of walls, floors, roofs with automatic dimensions and place them into sheets.
Automatic addition of all hosted elements to an assembly.
Use various templates to automatically create views and place them on a sheet template.
Auto-generate schedules based on schedule templates.
Rule-based creation of dimensions with notes in selected views.
Create multiple assemblies with defined configurations in a single click.
Easily check, update, edit, change dimensioning configurations of selected assemblies.
Update assemblies based on project changes.
Select/find/isolate primary and secondary assemblies.
Find changes in assemblies due to new hosted details.
Insert details/cuts on all assemblies of the same type with one click.
Renumber Revit® elements just the way you want, detect and renumber grids, determine swing direction and orientation (and add them as properties), recalculate shared coordinates, and much more.
Detects grid geometry and automatically renumbers them after any project change.
Renumbers of any Revit elements (Doors, Windows, Columns, Pipes, etc.) in a number of different ways.
Writes swing direction for the doors into the door's properties.
Writes flip/mirror orientation for the selected elements.
Creates new shared parameters, recalculates shared X, Y, Z coordinates.
Possibility to save numbering settings under the separate name.
Possibility to sort elements in Ascending/Descending order, and many more functions.

Smart Views
Get sections and elevation drawings for any building element easily using functions that create views and dimensions for selected elements quickly.
Uses configurations instead of manual work
Crops views to the element size
Creates automatic dimensions based on defined configurations
Applies view templates to all new views
Creates the number of views you set in the configurations for multiple selected elements
Renames views based on configurations
Apply dimensioning rules to any Revit view or selected elements in view
Want to find out if this is the right solution for you? Our professionals can help you quickly find out how this software will benefit your design process.
FRAME YOUR PROJECT!
Don't waste time reading technical documentation, and see that this is the solution for you! Our Expert will frame a part of your project, demonstrate software functionality, and share best practices and the most efficient way of framing, taking into account your current needs.
Duration: 2 hour. Cost: 280$/280€
You'll leave the demonstration with:
– Part of your project already framed;
– Your questions answered;
– 30-day software trial;
– Support during the trial period.