BIM software for designing curtain walls & panels in Revit® models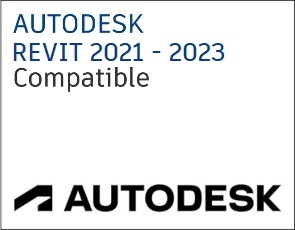 Curtain Walls & Panels enables quick and easy framing of architectural curtain walls or curtain panels in Revit® with real-time full project updates. That ensures you'll get accurate bills of materials and builders work drawings, and accurate on-site assembly thanks to BIM-to-Field features.
      Compatible with Autodesk® Revit® 2023, 2022, 2021
Together with Metal Framing Wall+ functionality, which is included, Curtain Walls & Panels enables the instant large-scale insertion of mullions, transoms, window glass holders, pressure plates, cover plates, insulators and infills throughout your Revit model. Which means you'll get high-quality framing models at the level of detail required.
Project elements can be easily marked according to properties and locations. And fabrication information can be automatically generated with all desired views, schedules, and drawings.
POWERFUL FEATURES
Automate light gauge steel wall framing in Revit® with BIM solution Metal Framing Wall+ that is powerful, flexible, and easy to use. It helps you make optimal choices, move much faster, and avoid errors at every BIM stage – from design and documentation to wall panel fabrication and construction. Solution supports C+C (incl. C+C Chamfered), C+U (incl. C+U Special) and U+U framing systems.
Create detailed multi-layer metal wall framing for any Revit project in a snap using predefined or custom rules and templates.
Frame multi-story houses 10 times faster than using standard Revit interface.
Easily configure supporting structure, openings, complex L or T connections, details, service hole positions, and more for straight or arched light-frame walls.
Automate sheathing layouts.
Frame architectural curtain walls with highly detailed elements (including mullions, transoms, window glass holders, pressure plates, cover plates, insulators etc.) efficiently.
Frame curtain panels (including complex fills & internal frames) precisely.
Find structural and engineering clashes; cut and frame openings according to predefined rules.
Perform structural analyses without leaving Revit or exporting your metal frames to external analysis software at any stage of design process.
Generate shop drawings and cut lists with one click.
Get real-time take-offs and views, auto-sorting and dimensioning, and optional export to any CNC machines (Howick, Metroll, Pinnacle, etc.).
Renumber Revit® elements just the way you want, detect and renumber grids, determine swing direction and orientation (and add them as properties), recalculate shared coordinates, and much more.
Detects grid geometry and automatically renumbers them after any project change.
Renumbers of any Revit elements (Doors, Windows, Columns, Pipes, etc.) in a number of different ways.
Writes swing direction for the doors into the door's properties.
Writes flip/mirror orientation for the selected elements.
Creates new shared parameters, recalculates shared X, Y, Z coordinates.
Possibility to save numbering settings under the separate name.
Possibility to sort elements in Ascending/Descending order, and many more functions.
Solution Smart Connections instantly adds any number of face-specific intelligent details – which adapt to host-element changes – throughout BIM models. Easily set up rules to insert or adjust details based on gravity point, depth, adjacent elements, and more. It saves many hours per project, especially for structural engineers.
Easy setup of insertion rules.
Insert details on any face of host element.
Use parameters of host elements to make your details smart and adaptive to host length, thickness, height, etc.
Insert details according to gravity point.
Insert details based on surrounding elements.
Save time by using update and modify options.
Use interaction with Smart Assemblies to prepare shop drawings.
Smart Views
Get sections and elevation drawings for any building element easily using functions that create views and dimensions for selected elements quickly.
Uses configurations instead of manual work
Crops views to the element size
Creates automatic dimensions based on defined configurations
Applies view templates to all new views
Creates the number of views you set in the configurations for multiple selected elements
Renames views based on configurations
Apply dimensioning rules to any Revit view or selected elements in view
CLIENT STORIES
---
Want to find out if this is the right solution for you? Our professionals can help you quickly find out how this software will benefit your design process.
30-Day Trial
To properly assess the software, you'll need sample families, sample configurations, and personal training with our engineers. For that we offer a 30-day Trial* that includes:
Revit project with sample families & configurations
Personal online fee-based training (1 hour) + answers to your questions
30-day software trial with technical support
*For more information, see our FAQ page.
Developed in compliance with standards and guidelines:
AISI S100-07/S2-10, North American Specification for the Design of Cold-Formed Steel Structural Members with Supplement 2. American Iron and Steel Institute, Washington, DC.
AISI S200-07, 2007. North American Standard for Cold-Formed Steel Framing – General Provisions. American Iron and Steel Institute, Washington, DC.
NASH Standard – Residential and Low-rise Steel Framing, Part 1: Design Criteria. 2010.
NASH Standard – Residential and Low-rise Steel Framing, Part 2: Design Solutions. 2010.
Building Enclosure Design Guide– Wood Frame Multi-Unit Residential Buildings. Homeowner Protection Office (HPO), Vancouver, Canada, 2011.
AISI D110-07, Cold-Formed Steel Framing Design Guide, 2nd Edition. American Iron and Steel Institute, Washington, DC.
AISI D100-08, AISI Manual, Cold-Formed Steel Design. American Iron and Steel Institute, Washington, DC.
Pinnacle CNC Machine Specifications
Metroll Manufacturer and Supplier Resources
ClarkDietrich Steel Framing Product Specifications
CEMCO Specifications
PRODUCT BROCHURES
Learn more about the AGACAD products by reading our selected brochures.