We continue to review the status and specifics of BIM use around the world, this time taking a closer look at the USA.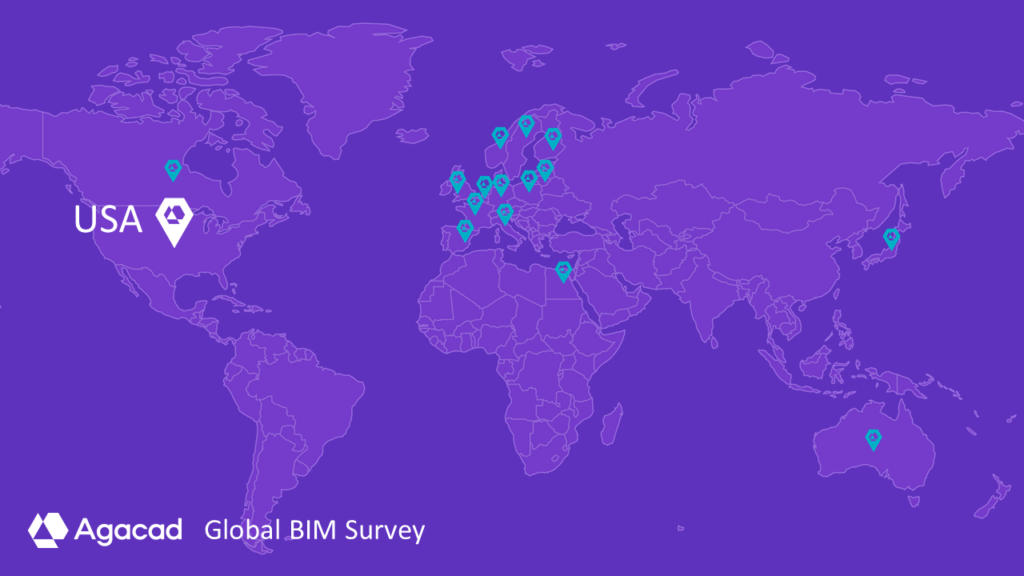 The analysis is based on an interview with Geoffrey Jennings, the Director of BIModular, a global BIM consultancy and a North American partner of Agacad.
BIModular specializes in Design for Manufacturing and Assembly applications of BIM. It works with modular manufacturers, component fabricators, and architectural and engineering firms, mainly in the USA, Canada and France.
Significant and steadily increasing BIM adoption
Building information modelling (BIM) has reached the mass-adoption stage in the U.S. with its $1-trillion-a-year construction scene, BIModular Director Geoffrey Jennings says. That's because enough architecture, engineering and construction professionals now understand BIM to make it accessible for projects and because tools and consultants are helping people realize the method's amazing potential.
"Most disciplines now utilize BIM in their design process. Over 98% of large architecture firms in the U.S. have adopted BIM and over 30% of small firms use it for some modelling and documentation. The collective BIM adoption rate in the design industry is nearly 80%," says Jennings.
He has been active in BIM design and helping others implement digital construction technologies since 2003 and sees the U.S. reaching a 95% adoption rate soon. But he admits most organizations are still mixing old and new methods – 2D drawings and 3D models – and it may take another decade to consolidate full-fledged BIM use across the country.
"For a while, it's going to be hybrid, it has to be," he says. "It's like learning a new language, which is hard for some. You have firms with one or two BIM people and 10-15 still in CAD. But the designers entering the industry today only know BIM. Over the next 10 years, you'll see the world of 2D fade away."
BIM gains demonstrated and put within reach
The maturing of the market, Jennings notes, is due in part to experts – developers and consultants – who are making BIM easier and unleashing its power with customization and automation.
"You cut a 1-week task down to a few minutes' task and it blows people's minds. They start asking what else is possible. It awakens their imagination and creativity to reinvent processes."
He has experienced how BIM technical consulting is pushing BIM to a new level with automated processes to output data for CNC, robotics, procurement and DfMA. He also cites the example of Agacad's add-on BIM solutions for Autodesk Revit: "They enable each discipline to create the level of detail needed, with flexibility for how far each wants to go with BIM and compartmentalized solutions for easy transfer from project to project. So you're not overwhelmed by options or information."
He sees the Agacad tools as examples of enablers: "With them, when properly implemented, we can push data directly to CNC equipment, robots, fabrication lines. I'm able to harvest the data Agacad automates and use Excel to generate workorder instructions, quality assurance documents, etc. I can optimize an entire building for procurement in a matter of minutes or hours."
BIM standards with an independent streak
When it comes to standards for BIM projects, Jennings says, people in the U.S. prefer an ad hoc approach, prioritizing independence and room for individual style as well as flexibility in ways BIM is applied.
"Standards are methods of organization, to guide users to understand and create content under organized formats. There are many BIM standards in the U.S. but no national mandate. Firms see them as guidelines. You have industry-specific standards and also generic standards covering the whole BIM gamut. Regional governments, public institutions and other owners each decide what to require for each discipline."
The most accepted standards for design and contracts, he says, include those from:
"Organizations will cherry-pick what they like from each and blend it into their own standards. What to require in a given case will depend on the project team, the regionality, the code criteria. That's kind of the nature of America – independence to have your own views on what the standard should be."
Jennings's own firm integrates several standards into BIM data management development: CSI, NBS, GSA (for government work), AIA, buildingSMART, and NBIMS-US standards. He finds most customers want to keep standards flexible and integrate new methods with past norms.
Execution plans with built-in flexibility
BIM Execution Plans ("BEPs" or "BxPs"), introduced in the U.S. over the past 10 years or so, also vary based on factors like team members' experience, Jennings says. BEPs are used primarily to specify project goals within design teams, with AIA contracts used to control overall roles and responsibilities.
"The architecture firm usually has their own baseline BEP which gets customized in consultation with the owner and the design trades involved in the project. It is also tailored to regional requirements."
BIModular, the consulting firm Jennings runs, uses Generic Bill of Material (GBOM) codes to describe the requirements and constraints of a BIM element. GBOM codes give owners flexibility in late-stage specification and purchasing options: they can select vendors and products without impacting BIM documentation.
"You need a level of flexibility in BIM design so that you can deal with the future unknowns," he notes.
Regarding classification standards, he says, in the U.S. is it common to use the CSI MasterFormat to classify building materials by use and the systems-based CSI Unicode format to classify building assemblies and site conditions. Gaining prevalence is the use of Industry Foundation Classes (IFCs) to enable each BIM actor in a project to extract the data needed for their own role.
Focus on the effectiveness of information
Meanwhile, more and more attention is given in the U.S. to effective management and sharing of information – the all-important "I" in BIM.
"Data management is key to unlocking the full potential of BIM and applying the information for all sorts of business, manufacturing, automation, virtual reality, building and sustainability applications," Jennings says. BuildingSMART's openBIM initiative is helping make BIM families and data cross-platform accessible as IFCs are refined to support digital twins for life-cycle maintenance of structures.
"We're entering a phase of 'who-needs-what-when' data management. A simple URL and model number can give anyone access to bill of materials, warranty, install, and maintenance data for any product any time, by tablet or even VR. That's the trend and attitude I see."
Part of the trend is a lean approach to data, avoiding bloated systems. "I myself build micro-relational databases inside families and make superfamilies – lightweight families with robust capabilities," he notes. "The dynamic data should not be in the BIM model but instead reference-linked to the manufacturer's static data source. All of this does require standards, as data must be organized and in a consistent sharable format."
Led by the search for competitive advantage
The projected full maturing of BIM in the U.S. over the coming 10 years or so will involve consolidation on both the HR and the IT sides, with competitive pressures as the main driver of advances.
"BIM is becoming mainstream and now architects, contractors, fabricators, engineers, and software developers must compete for contracts by finding ways to empower BIM further."
The design industry still faces challenges of worker education, testing and certification as well as investments in hardware and software and interoperability between platforms and systems.
"BIM is a digital world. It will take years to build all the virtual infrastructure that our physical environment requires. On the process side, with virtual reality and more precise GPS, I foresee project sites without tape measures. We'll have the virtual model in headsets, line up the building elements, and when the element turns green it's in place. It will be the augmented world driving our physical world. That's where we're moving."
"While our technologies continue to advance, it is paramount that our dedication to multi-national BIM standards set the groundwork for technology to follow," Geoffrey Jennings stresses.
---
That concludes our look at BIM today in the USA. Follow the Agacad blog for regular insights on BIM practices in different countries.
More Global BIM Survey reports are coming soon – stay tuned!
Prepared by Bryan Bradley of Textus Aptus