Sweden offers a great case study as we continue to examine the status and local specifics of BIM use around the world. This analysis is based on an interview with BIM/VDC specialist Patrik Lundqvist of COWI-owned AEC AB, Sweden's leading supplier of IT software and services for the building industry and an agent and partner of Agacad in the Nordic region.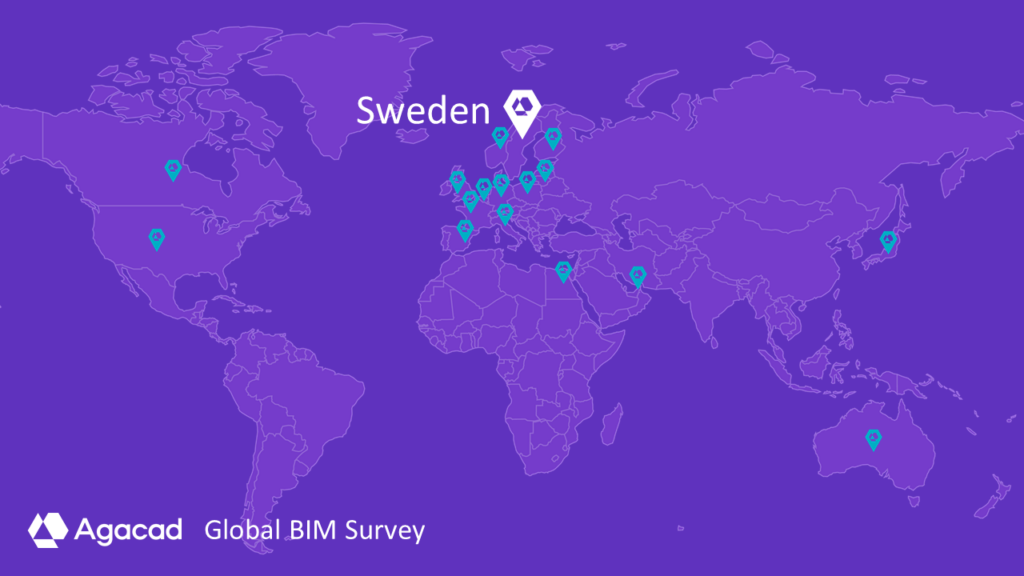 Digital construction efforts in Sweden are widespread and significant. But, as in many countries, they are still dominated by an inefficient mix of new and old approaches and are mainly limited to the design phase. Given the lack of a government mandate for using building information modelling (BIM) methods, advances in this Nordic country are mainly being driven by bold project developers.
Testing the water without jumping in
People in Sweden were eager early adopters of computers and modern telecommunications. Like their Nordic neighbours, they also took an early interest in technologies for virtual design and construction (VDC) like the 3D modelling and data management that make up BIM.
But unlike Norway, Denmark and Finland, Sweden has never had a national mandate for the use of BIM, at a certain level, in public building projects. (Though the government has considered the matter, and there is a ministry-level BIM requirement for work on roads, rails, and bridges.) As a result, while most in the building industry use newer technologies, they tend to do so piecemeal and gradually, innovating very cautiously, notes AEC AB's Patrik Lundqvist, who is a building engineer and BIM consultant with 30 years of experience as well as a university lecturer on VDC topics.
"Most projects in Sweden do use BIM in design. But it's often 'hybrid BIM', where you do a lot the old way, like 2D drawings in AutoCAD, and then add some BIM to that – a Revit model, some IFC collaboration," Patrik Lundqvist says.
He notes that architects in the country generally like making 3D models with Autodesk Revit and related industry-specific tools such as those Agacad offers. Structural professionals also tend to value BIM models. But the vast majority of mechanical, electrical and plumbing engineers in Sweden still do MEP work with MagiCAD for AutoCAD – software made more for traditional CAD workflows.
"So instead of really adopting BIM workflows, shifting to digital models instead of drawings, you do a bit of both," Lundqvist says. "That's expensive. It takes more time than it should and costs money."
It also fails to deliver all the benefits of BIM, leaving many people sceptical about investing more to learn and implement BIM fully: "If more people went to Revit on the engineering side, I think you'd see big gains in all the disciplines, and that would make it easier to jump to model-based design, which is the direction most parties agree we want to go."
Consolidating BIM standards and creating awareness
A set of process standards and manuals known as the Swedish National BIM Guidelines is maintained as a web portal by the industry association BIM Alliance Sweden. For their base standard, the guidelines take ISO 19650 of 2018, which in 2019 was also adopted as a Swedish national standard (SIS).
"These recommendations are not mandatory but are generally followed, to varying extents, depending on the project type and BIM maturity," Lundqvist states. "In any case, more and more people know that there is some kind of standard for BIM processes to look into."
He cites four main classification standards used in the country:
The BIP ("Building Information Properties") classification was developed in the early 2000s by companies involved in building a major hospital in Stockholm. Made available online, it came to be used widely, for healthcare and other types of facilities, but is not a good fit for all projects.
CoClass is a classification system for the built environment maintained by Svensk Byggtjänst, a Swedish building-industry knowledge hub. Published in 2016, it is a more mature version of an older classification (BSAB) based on ISO 12006-2 and also reflects ISO/IEC 81346. CoClass is actively promoted. There is lively discussion of how best to implement it in software and use it in complex situations.
BIMTypecode, introduced in 2018, describes itself as "a simple and logical coding structure for building elements." It was developed, based on older classifications, by a group of Swedish architecture firms whose needs were not met by either the BIP classification or CoClass. Intended for all disciplines, so far it is mainly used by architects.
Fi2, short for facilities-management information version 2, is a de facto standard for exchanging non-graphical information between CAD systems and facility management systems. It is widely used in Swedish hospital buildings, for example.
As for BIM Execution Plans (BEPs) and Employer's Information Requirements (EIRs), they have been used in Sweden for over a decade now, according to Lundqvist. Their origins are not so much British standards for such documents, he adds, as Swedish best practices and national standards for CAD manuals of the past, with more and more BIM put into them. For EIRs, it tends to be up to each owner to develop specifications for their needs. While facility managers and owners generally lack both the knowledge and the software to make use of the data from BIM models, interest is growing fast in light of the potential seen for using IoT and Digital Twins.
Seeking value from BIM beyond design
Looking at local VDC trends and attitudes, Lundqvist sees "a big effort in the design stage to use open BIM formats like IFC and cloud-based solutions like Autodesk Construction Cloud, Dalux and StreamBIM to try to make digital deliverables useful for construction and facility management."
In production and at the construction site, he says there is real interest in cloud solutions for accessing the latest versions of drawings on tablets, phones or other devices. Getting that to work smoothly in practice though calls for improvements in communication with and from design models.
"On the facility management side, people are looking for cloud-based solutions as well, mainly to store dwgs and pdfs from projects 10 to 20 years ago, and in newer projects, also IFCs and maybe Revit or ArchiCAD models. But there's a lot to wish for before those things can be used for redesign, digital twins or the Internet of Things, and it's hard even to meet simple needs like areas and seeing who's now renting what. So, few facility managers today can really use the BIM data that's produced. They often get it anyway, on a USB stick or in a database, which hopefully they can use in future."
Here too, then, many are not convinced of the potential value of BIM and so hesitate to invest in it.
"This is a leadership question," Patrik Lundqvist stresses. If policymakers are not convinced enough to introduce a BIM mandate, he says, then the AEC industry itself needs to provide "success cases of model-based design and smart workflows where the data is used, meaningfully, through the whole project, from start to finish, including for maintenance of the facility."
Leading by example and inspiring with gains
Such projects do exist. Lundqvist cites a few bold owners "who say let's do this, let it cost a bit more, let it take more time, but let's use modern workflows – and they finish sooner than expected, cheaper than expected, with teams that don't want to do things any other way in the future."
His top example is the Celsius building at the Uppsala Science Park, the Swedish Food Agency's new seven-storey, 12,000 sq. m. headquarters with award-winning design and engineering solutions. The building's owner is Vasakronan, Sweden's largest property company. This €48 million project with 40 subcontractors was fully digital –no paper allowed– from the call for bids to the end of construction and handover of as-built data in the fall of 2020. Traditional drawings were replaced by IFC models, which workers viewed on site with tablets and virtual reality gear.
The Celsius project finished two months ahead of plan and €900,000 under budget. It benefited from 80 percent less rework and an equally large reduction of materials deliveries compared to a similar building built nearby by the same owner from traditional 2D drawings.
Another example of "new thinking and workflows" is the Slussen urban infrastructure transformation in central Stockholm. The €1.7 billion project, ongoing for several years now and due to be completed in 2025, is also paperless. All design information is required to be digital, with 35 models replacing the 15,000 drawings that would otherwise have been needed.
Amid sceptics and everyday complications, making such an innovative project work has been a struggle. But, like the Celsius project, it has also given many, many people and organizations in architecture, engineering and construction direct exposure to and experience of modern digital construction tools and methods. Also showing them those methods' real benefits and immense potential.
"Projects like these bring sharing of knowledge and competence for future development in BIM and VDC, and they also give owners examples of real BIM uses," Lundqvist says.
---
That concludes our look at BIM today in Sweden. Follow the Agacad blog for regular insights on BIM practices in different countries.
More Global BIM Survey reports are coming soon – stay tuned!
Prepared by Bryan Bradley of Textus Aptus