Poland is our next case study as we continue to review BIM use around the world with the help of our well-placed international partners. This analysis is based on an interview with Arkadiusz Leśko, a BIM expert at Arkance Systems Poland.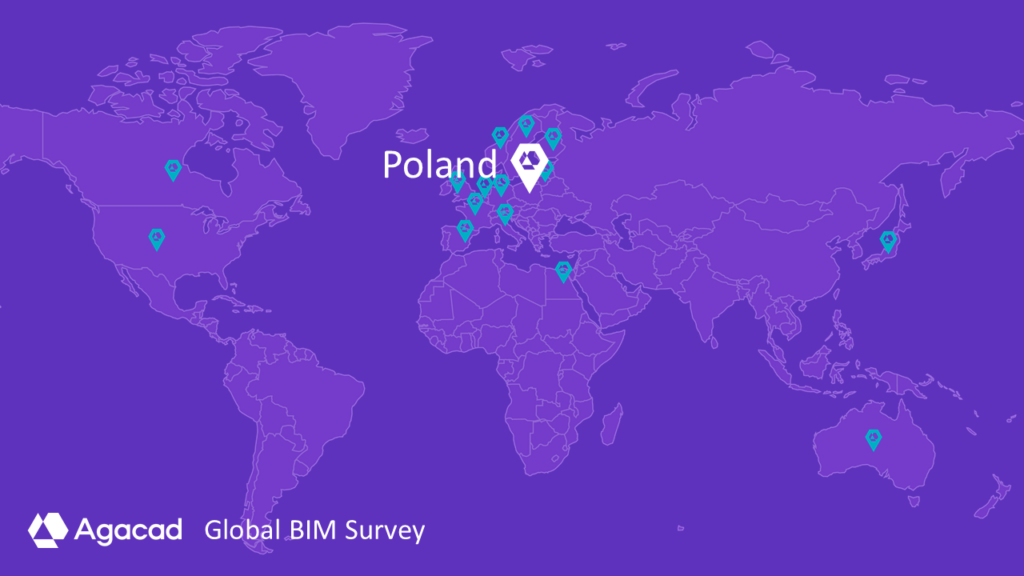 Procurement link is weak
Architecture, engineering and construction companies in Poland know a lot about building information management and modelling (BIM). They just have not had much opportunity to use that know-how. That's because public sector building projects, which play a major role in this the European Union's sixth biggest economy, still rarely offer space for digital construction techniques.
Indeed, ever since Poland joining the EU in 2004, the bloc has promoted and helped fund numerous very large projects for modern transport infrastructure and public facilities of all kinds. But "when it comes to the use of BIM in public tenders, it is not common. It is in fact rare," says Arkadiusz Leśko, who as Technical Director for AEC and Infrastructure at Arkance Systems Poland advises stakeholders on both government and private-sector projects.
A BIM pilot project in infrastructure, launched in 2016, did not go beyond the design phase, he recalls. As for public buildings, some attempts are being made to use modern technologies, but in a fragmented manner.
"A lot depends on the people organizing the tender," Leśko explains. "Poland at the national level does not have obligatory standards related to BIM and there are no guidelines for public procurement, for how to conduct a tender using BIM. As a result, public institutions with construction projects are not fully convinced and very rarely use provisions that allow or force the use of innovative technologies."
Private BIM standards emerging
There is growing know-how about digital construction methods in the private sector in Poland, and many in the building industry are using newer technologies, even if often piecemeal and gradually. That is partly due to the rising prevalence of prefabrication, where BIM's benefits are especially clear.
"Seeing a competitive advantage in the use of BIM and related modern technologies, design and construction companies are creating their own standards and work processes, drawing on practices and standards from other countries" like the UK, the US and other EU countries where Polish AEC companies are increasingly involved in, or even leading, projects, the Arkance expert notes.
Lack of a single national BIM standard complicates life for designers and contractors, who often have to adapt to different requirements on different projects they're carrying out simultaneously. "Such a state is not conducive to the development of the market and the technology itself in Poland," Leśko says.
The country's Public Procurement Office explains on its website that "the Polish market lacks generally recognized BIM standards, which means the contracting authorities themselves have to try to define the scope and data standards they expect from a BIM model." As a starting point, the office recommends a handbook, known as BIM Standard PL, published in 2020 by a group of AEC industry associations. That document is based on ISO 19650, which came into force in Poland in 2019.
As for BIM Execution Plans and Employer's Information Requirements, an EU-funded project the Polish government conducted with PWC led to the publication of EIR and BEP templates, along with a BIM Lexicon, in 2020. The journal Applied Sciences in 2021 published a case study on the EIRs for three building projects in Poland.
Signs of new momentum
At a stakeholder consultation on digital construction in March 2020, international participants pointed out that Poland does not yet even have a formal roadmap for BIM implementation in the country. That seems set to change at last. In March 2022, the Ministry of Economic Development and Technology set up a BIM Working Group, including industry representatives, tasked among other things with creating a clear national BIM roadmap for Poland and advancing towards uniform BIM standards.
Arkadiusz Leśko says that is a good sign, though it will probably take a year or so to start seeing whether the working group is producing real results. Meanwhile, in related administrative services, the state is clearly moving ahead with digitalization. Since 2020, it has launched a single portal for handling construction permissions online, an electronic construction log system, and other similar tools.
What is urgently lacking, in Leśko's view, are mandatory BIM requirements at the national level. "Polish companies have human capital capable of implementing the most demanding projects using BIM technology, and they are doing that on projects outside of Poland. It is time to use this potential on Polish projects," he says.
Architect Maciej Zuber, a member of the new BIM Working Group, seems to agree: "The question should not be whether to require BIM by law, but from when. Sooner or later, it will be imposed by cost optimization anyway," Zuber told an industry publication in an interview published this June.
A transport hub project as an ice-breaker
But the biggest reason for hope that Leśko sees is Poland's 25-billion-euro Solidarity Transport Hub project – also known as "CPK" based on the initials of its name in Polish. "This is the largest investment in post-war Poland, announced as a project using BIM from the very beginning."
Intended to integrate and upgrade Polish air, rail and road transport links internally and with the EU, the project involves 30 investment tasks. They include a new 3,000-hectare airport 37 km west of Warsaw with fair, conference and office facilities, and about 1,800 km of new railway lines.
Preparatory works are now underway, with completion planned by the end of 2034.
"The first concepts for solutions are being developed and so far, I am optimistic as I observe the consistency of the team's actions to create BIM standards in the CPK project. It is possible that this project will lead the way for BIM implementations in Poland," Leśko says.
Arkance Systems Poland is helping to prepare potential contractors to participate in the CPK projects.
---
That concludes our look at BIM today in Poland. Follow the Agacad blog for regular insights on BIM practices in different countries.
More Global BIM Survey reports are coming soon – stay tuned!
Prepared by Bryan Bradley of Textus Aptus