Drawing on the insights of our partners around the world, Agacad is examining the status and specifics of BIM use in different countries.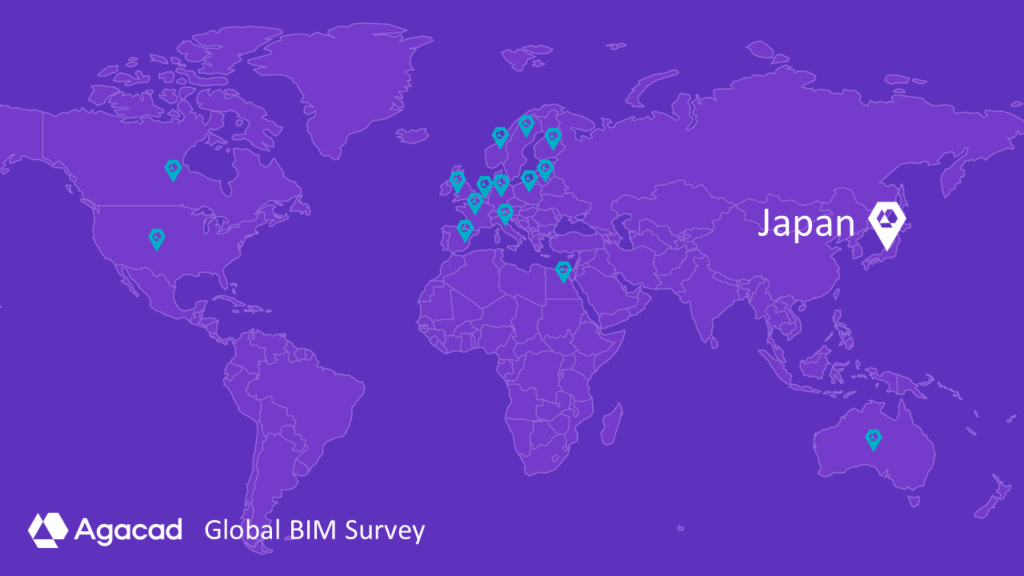 This time we look at Japan, in discussion with Mr Masanori Moriya, the CEO of M&F tecnica, a leading Japanese provider of ITC solutions for the building industry with offices in Tokyo, Saitama and Miyazaki. M&F has helped pioneer BIM in the country.
Japan is no stranger to modern technology and process efficiency. In many industries, Japanese firms have written the book on workflow optimisation. But in building and construction information modelling, or BIM/CIM as it's generally called there, the country seems to be lagging internationally.
"The introduction of BIM in Japan is behind compared to other countries. The Japanese BIM market is still in the developing stage," Mr Masanori Moriya says, adding: "Some believe this is due to unique Japanese business customs."
The Guidelines for BIM Standard Workflows published by Japan's Ministry of Land, Infrastructure, Transport and Tourism (MLIT) in 2020 stress BIM cannot be promoted according to international standards immediately due to the way Japan's construction industry functions. As in other countries, the document says, BIM guidelines should be based on ISO 19650 but customized for the local situation. "In other words, it says it is important to introduce BIM in a way that fits Japanese business customs," Mr Moriya explains.
Unique design-build system in Japan
The main uniqueness seems to be the tradition in Japan of general contractors preparing and coordinating all design documents and shop drawings. For that purpose, they generally retain their own in-house architects and engineers. As a result, decisions tend to be made rather late in projects, which reduces the potential for productivity improvements by using BIM.
Moreover, major contractors tend to have their own, proprietary IT systems for managing building information. Those are generally based on 2D CAD. Making the systems work with 3D models, BIM methods and the related software packages is a big challenge. "BIM clearly requires a change in mainstream work methods, and new rules. Such processes are very costly," Mr Moriya says.
Given the extra costs and complexity of getting benefits from BIM in this situation, neither design firms nor contractors nor clients have much incentive to go that road. As of the end of 2020, less than half (46%) of Japan's large construction companies (and their design departments) were using BIM, according to a survey by the German market data company Statista.
Recommendations without teeth
The Japanese government has made efforts over more than a decade to put BIM on the agenda of the building industry, publishing a variety of roadmaps and guidelines. As far back as 2010, the MLIT announced the start of pilot projects for BIM use in public construction works.
Industry associations have contributed too. The Japan Institute of Architects (JIA) has guidelines for BIM use in design, the Architectural Institute of Japan (AIJ) offers a process map for BIM projects, and the Japan Federation of Construction Contractors (JFCC) works to centralize knowledge on BIM use. But BIM use has never been mandatory or the object of broad enthusiasm. There is an overriding sense that the current approach is sufficient for quality building design and construction.
Nor have clear standards for BIM or classification emerged. Architects, engineers and builders largely are free to pick their own data and modelling preferences. "There are only a few projects that follow the government guidelines, which are government-led projects," Mr Moriya notes. In recent years, the state has begun to encourage developing a common standard to help move ahead faster, he adds.
Modern construction means more than just BIM
But BIM/CIM is just one angle of digitalization for enhancing building work. Japanese designers and contractors have been much more proactive in adopting other types of modern technologies, including computational design, the use of pre-programmed and remote-controlled robots and unmanned machinery at construction sites, and IoT applications to digitalize buildings themselves.
The current technology push arose partly to address an ageing workforce and labour shortages in AEC. It has been strongly promoted by the Japanese government in collaboration with private firms. The drive accelerated amid the distancing and remote work requirements of the Covid-19 pandemic.
In 2021, the JAPAN BUILD exhibition, the country's leading trade show for the building and housing industries, held annually in Tokyo and Osaka, for the first time included a Digital Construction Expo. Also last year, 16 Japanese contractors formed a consortium to accelerate R&D on the use of robots and IoT in construction.
Reasons to expect increased BIM use
Against that background, BIM use on the market is gradually increasing, driven mainly by designers seeking more efficiency and possibilities, and by some public infrastructure projects.
"Most construction projects in Japan are led by the private sector, so for the future we need ways to help owners and investors discover the benefits of BIM," M&F tecnica's CEO stresses.
Keenness for other technologies is helping, since robots, IoT and other modern solutions tend to require more robust data and data management than is possible with non-BIM, 2D approaches. BIM is looking increasingly useful here, also for putting all the digital information together on one platform. Moreover, there is growing interest in Japan in the possibilities BIM models offer for facilities management applications.
And according to AEC Magazine, Japan is seeing a surge in modular building projects. That adds strong incentive to use BIM tools during the design phase, since design decisions need to be made earlier in modular projects and designers need to align their creations with the manufacturing process and take the efficiency of production and assembly into account.
Finally, there is an emerging desire in the industry to provide more BIM training for AEC professionals in Japan. The idea is to have more people able to recognize opportunities for beneficially using BIM, explain those benefits to stakeholders, and carry out projects smoothly.
---
That concludes our look at BIM today in Japan. Follow the Agacad blog for regular insights on BIM practices in different countries.
More Global BIM Survey reports are coming soon – stay tuned!
Prepared by Bryan Bradley of Textus Aptus