Agacad is conducting a Global BIM Survey that draws on the expertise of its partners around the world to examine the status and local specifics of BIM in different countries.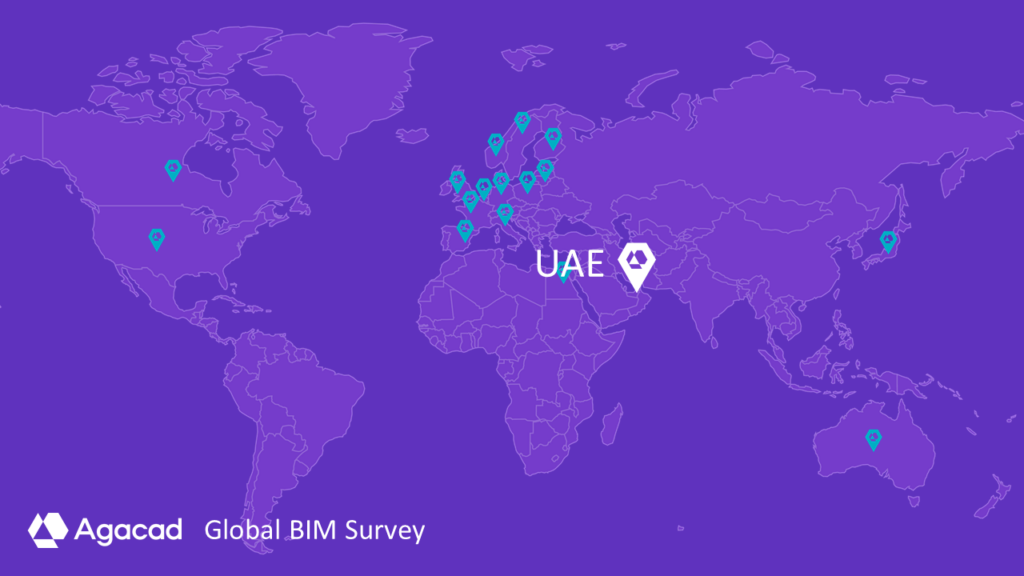 In this installment, we look at digital construction in the United Arab Emirates through insights provided by BIM experts at Dubai-based Generative Design Solutions Middle East (GDSME). This engineering solutions company has a great team in the UAE, Kuwait, and Qatar that provides innovative technology solutions and services to the construction and manufacturing sectors.
Use of BIM standards in the UAE
Clients and owners are free to specify what standards to use for planning projects in the Middle East. They generally use or take benchmark settings from well-regarded standards like the UK's Level 2 or the international BIM standard ISO 19650.
The same is true of classification standards, which have not been developed specifically for the region. Many clients take the US-based Uniformat or Masterformat, or Uniclass 2015 from the UK. As for protocols, for now we are taking the Construction Industry Council (CIC) Building Information Modelling Protocol from UK Level 2 and developing that for the requirements of clients here.
Dubai, meanwhile, as one of UAE's seven emirates, has announced and is following a roadmap to develop its own BIM standard, with a first phase of it published this year and a second phase planned next year, in 2022. Thus Dubai is playing a leadership role, though GDSME stresses that the country as a whole is quite mature in terms of the level and volume of BIM use.
Government role
The key factor driving BIM advances in the UAE is government support.
"The government realizes the benefits of digital construction. Initially their focus was exclusively on the CAPEX side, the delivery phase, but now there is much more concern for the operational phase of assets. They have achieved considerable benefits by maintaining and assessing the performance of the assets at an earlier state. Being able to understand how their assets will perform at an earlier stage means they can take good decisions at an earlier stage," Amal Mathew, a BIM expert and Business Development Manager at GDSME explains.
So the government has achieved a significant return on its investments in advancing the digital-construction agenda, which is a spur for it to promote further progress. To be sure, BIM's relative maturity in the UAE relates mainly to large projects where BIM is mandated, and especially to super large projects. For smaller projects where BIM is not mandatory, people mostly still work with basic CAD-based platforms.
Dubai's roadmap
Dubai Municipality has actively encouraged the adoption of new technologies in construction processes. "Circulars the municipality issued in 2013 and 2015 made it mandatory to use BIM in projects for buildings of 20 floors or more, in projects like hospitals and schools, in all government projects, and for any construction or facility to be constructed here on behalf of a foreign office," says Amal Mathew.
More recently, Dubai authorities designed and began implementing a Dubai BIM Roadmap:
They expect already in mid-2021 to launch the first version of a BIM e-submission system to facilitate obtaining building permits.
They intend to provide Automated Code Compliance Checking, where a BIM model is automatically validated against regulations and building codes, showing non-compliance issues directly on a 3D view of the model for resolution before re-uploading the model.
They are ambitiously working toward full BIM-to-GIS integration, blending the BIM models into layers of geospatial context for more effective infrastructure design and construction.
International impact
In August 2020, Dubai was chosen to host a chapter of BuildingSMART International, making the UAE the first country in the region to host a branch of that global industry body promoting the implementation of BIM.
According to GDSME, AEC professionals in the UAE are on top of all the most recent technology developments globally. The construction industry is tracking everything related to 3D printing and autonomous building methods as well as uses of IoT in assets and scan-to-BIM for capturing as-builts. And there is huge interest in developing "BIM plus GIS" so the digital data that end users receive really reflects reality.
In closing, one of our contacts at GDSME notes that "before working in UAE, I worked with the Qatar and Kuwait region. I can see that Dubai is much more advanced in terms of the number and volume of projects done in BIM, and in terms of the framework and the processes they have created for that. But the other countries of the region are moving in the same direction and their governments very much realize the value of that. For instance, Qatar and Kuwait now also have BIM mandates for government projects."
---
That concludes our look at BIM today in the UAE. Follow the Agacad blog for regular insights on BIM practices in different countries.
More Global BIM Survey reports are coming soon – stay tuned!
Prepared by Bryan Bradley of Textus Aptus