Drawing on the insights of our partners around the world, Agacad is reviewing the status and specifics of BIM use in different countries.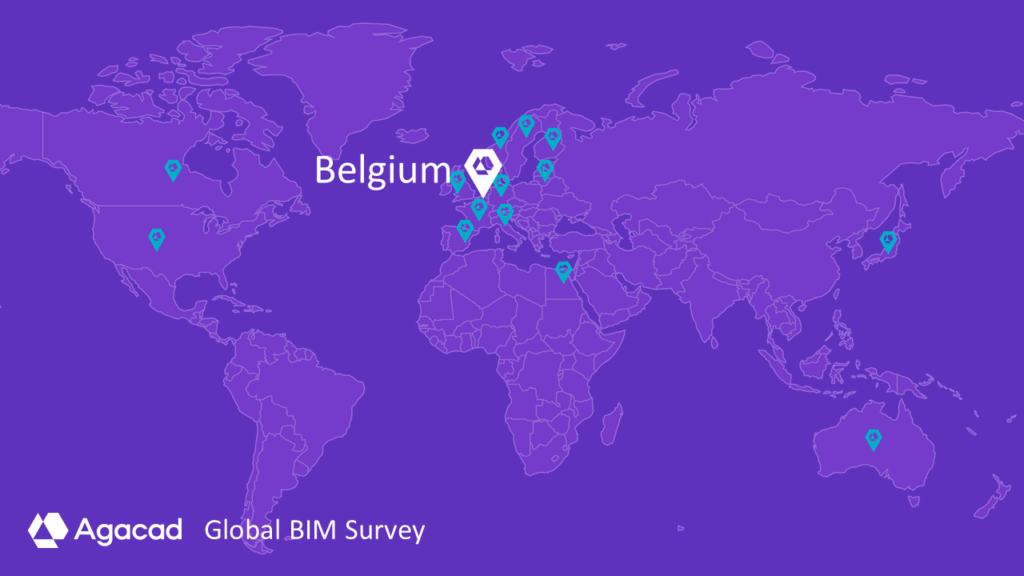 This time we look at Belgium, in discussion with BIM expert Peter Bruggeman from Arkance Systems BeLux.
Local challenges in the centre of Europe
While the European Union strongly encourages digitalization of architecture, engineering and construction, being in the heart of the EU has not really helped Belgium move faster with technologies and processes like building information modelling and management (BIM).
"In Belgium it's always step by step, and first of all we're going to look abroad – to Holland, France, Luxembourg, Germany. What are they doing? Is it working? What exactly is working? How can we start doing that too?" says Peter Bruggeman, the BIM specialist at Arkance Systems in Brussels.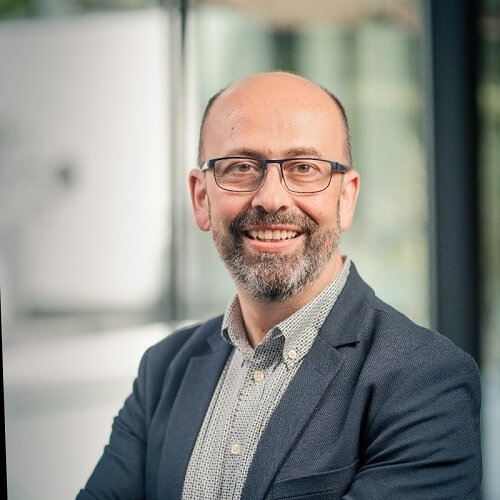 Having regions with distinct languages –Dutch in Flanders and French in Wallonia– has not helped speed BIM adoption either. As an example, Autodesk Revit, the dominant software platform for BIM here, is available with a French interface but not a Dutch one. "If you receive a file from a Flemish architectural office, it will be in English. If the constructor is French speaking, they'll open it in the French version; half will be in French, half in English. That doesn't work," the consultant notes.
Self-motivators seeking guidance
At present, the country does not have a BIM mandate. That does not mean, however, that AEC industries here are not advancing with digital construction, each at their own chosen pace.
"BIM started in Belgium with early adopters seeking internal benefits: to reduce errors and rework, streamline processes, have the needed data in a faster and structured way. The last 4-5 years, BIM is shifting toward the construction site also," Bruggeman says.
He notes that prefabrication, where BIM has especially clear benefits, is widespread here. "Every large project is prefabricated, from rebar and steel to concrete, even full facades with masonry: they're produced offsite and transported onsite to be constructed. Most of those players saw benefits in BIM."
"For now, the building owner is in the driver's seat when it comes to using 3D design and BIM on any project." And owners are keen to make sure that if they do BIM, they do it right: "There's no single entrepreneur who isn't asking for a guideline they can follow and know that if they use it they're good."
Moving towards a national standard
Thus, there is a push in Belgium at least for official BIM guidelines. Bruggeman cites several initiatives to develop standards for ensuring that information in BIM projects is both useful and can be easily exchanged among the parties involved.
One initiative that Arkance is involved with and promotes are the Revit Standards, first developed in and for the Netherlands to give structure to BIM processes and uniformity to data. The Dutch Revit Standards (NLRS) involve agreements on naming, model structure and parameter use in Revit. The Belgian Revit Standards (BERS), introduced last year, are an adaptation for the Belgian market.
"At Arkance Belux, we embrace the Revit Standards. This is what we use for advising clients," Bruggeman says, noting that AEC players in Belgium mostly use Revit. "ArchiCAD, Vectorworks, Allplan are primarily used within architectural offices, with most larger firms switching to Revit or having both. But almost every large contractor is working with Revit." The consultant also adds that "in terms of standardization, often Revit is imposed, and sometimes more than IFC."
Industry associations are hard at work
Another, more official, project is BIMportal.be, the work of a committee of the Buildwise (previously BBRI – Belgian Building Research Institute), with which all construction companies in the country must be affiliated. The portal, in Dutch and French, aims to be the national reference site for the digitalization of construction. In February 2022 it published version 2 of its BIM Modelling Guidelines.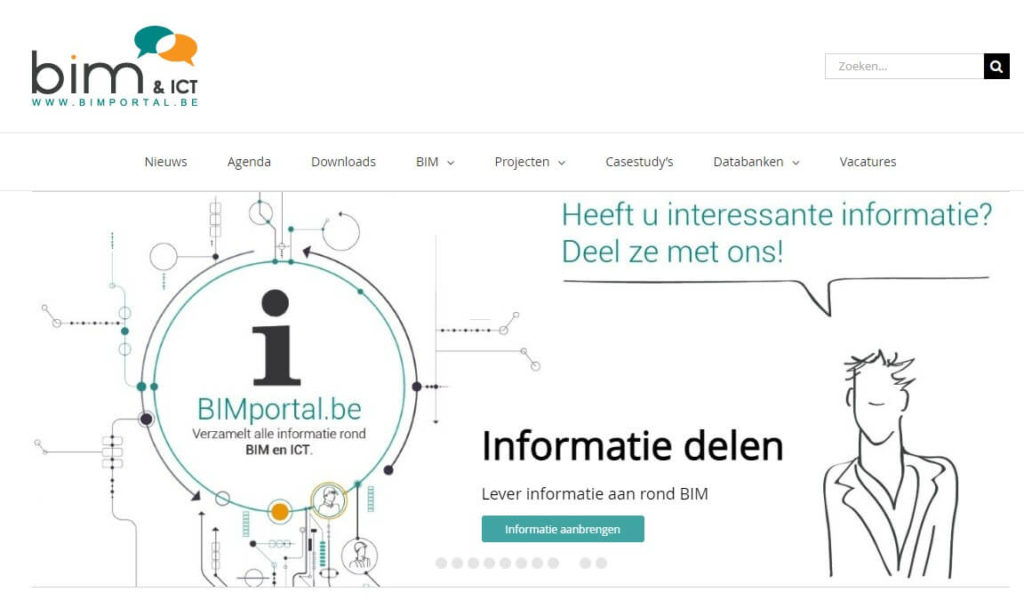 "Here the two Belgian regions of Wallonia and Flanders are trying to work together. BIMportal offers a Belgian BIM protocol, a Belgian BIM Executive Plan, modelling agreements. It's there to send out a message, but there's no obligation for any project (yet), so everyone does what he or she sees fit."
If anyone knows the importance of effective information sharing between actors in a BIM project, it is mechanical, electrical and plumbing (MEP) engineers. That is why Belgium's professional federation for technical installation companies, Techlink, is leading the TechBiM standardization initiative for MEP-related BIM work in Belgium.
"The association for contractors in the business of technical installations –HVAC, piping, and so on– made a top-of-the-pyramid decision to invest in BIM and send that message to all its members. The platform and library of families developed by TechBiM is free to use for projects in Belgium," Peter Bruggeman explains.
But while engineers in the country are firmly on the BIM bandwagon, the same cannot be said of many architects, he notes. "Small architectural firms in Belgium haven't embraced BIM yet. About 50% are still using an old-fashioned, 2D approach. Then we see that, depending on the construction firm, they remodel, redraw a lot. From scratch. To be able to have the benefits of BIM."
Plans for a national classification
The BIMportal initiative includes plans for the adoption of a classification recognised at national level. Its website says the system also could be conversion tables for translating or helping select from different existing classification systems: BB-sfB, buildingSMART Data Dictionary ISO 12006-3, ETIM Classification, Cuneco Classification System, Uniclass 2015, etc.
"ISO 19650 is known in Belgium, too, and implemented in all the bigger firms. That's about naming conventions and so on," Bruggeman notes.
"As for BIM protocols, larger construction firms already have their own. It's still a live document that changes whenever they see something new or need to evolve. But not everyone has their own BIM Executive Plan yet, and that's a bit strange. We receive a lot of questions about BEPs," he adds.
Cloud solutions are helping drive progress
The Arkance Systems specialist says Belgium's gradual progress with digital construction is not exceptional on the European map: "The Netherlands is a couple of steps ahead of us, certain regions have BIM mandates. Luxembourg has a BIM mandate as well. But if we look to France, they've been talking about a mandate for years and now hope to implement one in 2022. Let's see if they succeed."
More generally, he says BIM's early days in Belgium were a bit rocky given the lack of protocols and the plethora of different software in use. That is now changing thanks to a surge of interest in cloud solutions triggered by remote work during the Covid-19 pandemic. "The past 2 years was a trigger. Now with cloud collaboration, more of an ecosystem is emerging. That's good. Everyone profits."
Technologies like Agacad's BIM solutions for precast concrete, wood framing and metal framing, which greatly simplify modelling and facilitate collaboration, are helping drive AEC advances too, according to Bruggeman. The three software packages are popular in Belgium, Holland and Luxembourg, especially with firms that have in-house production, he says.
Meanwhile, manufacturers in Belgium are increasingly seeking the help of specialists like Arkance to create BIM equivalents of mechanical and construction elements. And facility management is starting to be linked with BIM models at times as the asset management life cycle comes into focus. That relates to national goals on cyclical construction for sustainability gains.
---
That concludes our look at BIM today in Belgium. Follow the Agacad blog for regular insights on BIM practices in different countries.
More Global BIM Survey reports are coming soon – stay tuned!
Prepared by Bryan Bradley of Textus Aptus