Supercharge your Revit library sharing via new cloud platform [WEBINAR]
In every BIM project, engineers, designers, and BIM managers need to be able to share and access the correct content. The simpler and faster this can be done, while guaranteeing content integrity, goes a long way to ensuring that the project will be completed on time and on budget.
When you share Revit families and family libraries with colleagues and clients, can you easily control how you share them and who gets access? Do recipients get notified if any elements have been added or updated?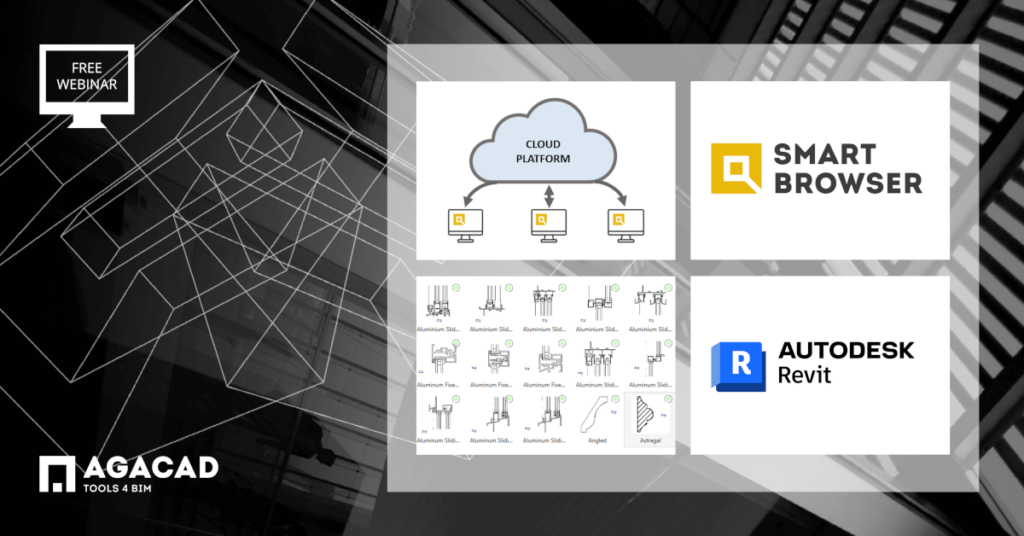 Our new Smart Browser Cloud Platform can help you share libraries easily and manage who has access to them. Join our free webinar on December 7th during which our Autodesk® Revit® users will learn how BIM teams can further simplify content coordination. We hope you can tune in!
In our work with AEC firms and professionals, we've found that BIM managers and designers of all disciplines often face problems like these:
Sharing the relevant Revit families with engineers inside and outside the company is complicated.
Searching for the correct family to use distracts from actual work.
Controlling access to shared libraries takes up too much time.
Managing Revit families inside a library, adjusting them, entering codes, prices, and other parameter values is time-consuming.
To meet those needs of Revit users, we've been further developing our Smart Browser add-on. During this webinar, we will present the new Smart Browser version, including:
the new and more intuitive library creation and management window,
a new feature that notifies users if there are newly added or updated families in the library,
the reworked library preview in Smart Browser window with favorite libraries list,
the reworked and improved drag & drop feature,
and the main event – presentation of the newly created Cloud Platform!
Stick around for the Q&A. Hope you can join in!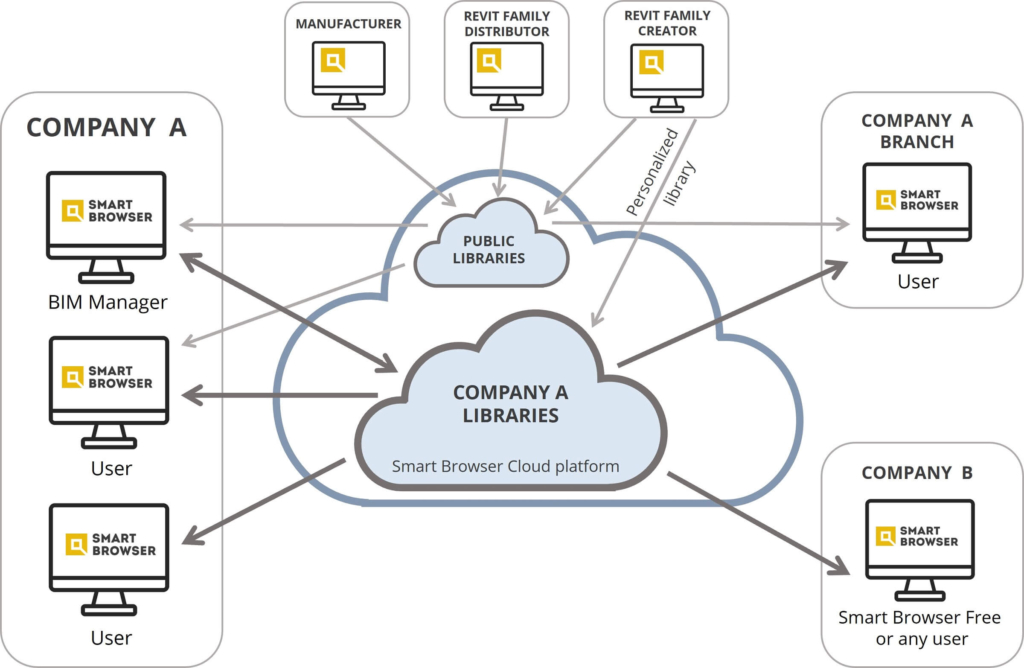 This webinar is for…
Designers of all disciplines, especially BIM managers. Constantly having to keep track of who can access Revit families and whether all the elements are up-to-date can be very demanding work. Some larger companies even have a specially dedicated person who keeps track of which families are used in Revit projects. And with the yearly maintenance of those libraries, combined with family naming, parameter naming, or parameter information-filling, it can be quite a daunting, time intensive task. Smart Browser can help you in all those aspects of library management.
With the new Cloud Platform for Smart Browser, you can easily control who has library access rights. To give someone permission, you just have to enter their account name in the library settings. Smart Browser will take care of the rest – including visually notifying users whether a family is newly added to the library or has been recently updated. Want to make a library accessible to all Smart Browser users? That's also an option.
Topics that will be covered in this webinar
Introducing the new Smart Browser
Navigating the new library management
Connecting to the Cloud Platform to store & share libraries
Benefits the new Smart Browser can bring to any company that uses Revit
Your host
Aleksandras Šeža
BIM Application Engineer
at AGACAD
Registration
US Central Session
Wednesday, December 7, 2022
11:00-11:30 AM CST
Most convenient for:
America, Europe, Africa
Central European Session
Wednesday, December 7, 2022
11:00-11:30 AM CET
Most convenient for:
Europe, Africa, Asia, Oceania
Solution
Smart Browser is BIM software for batch Revit® parameter management and easy family browsing in a quality controlled environment.
AGACAD's new Cloud Platform lets Smart Browser users conveniently store, share, and manage company or personal libraries. With the Cloud Platform, users can manage library access rights and share libraries privately, inside the company, or make them publicly accessible.
We hope to see you online!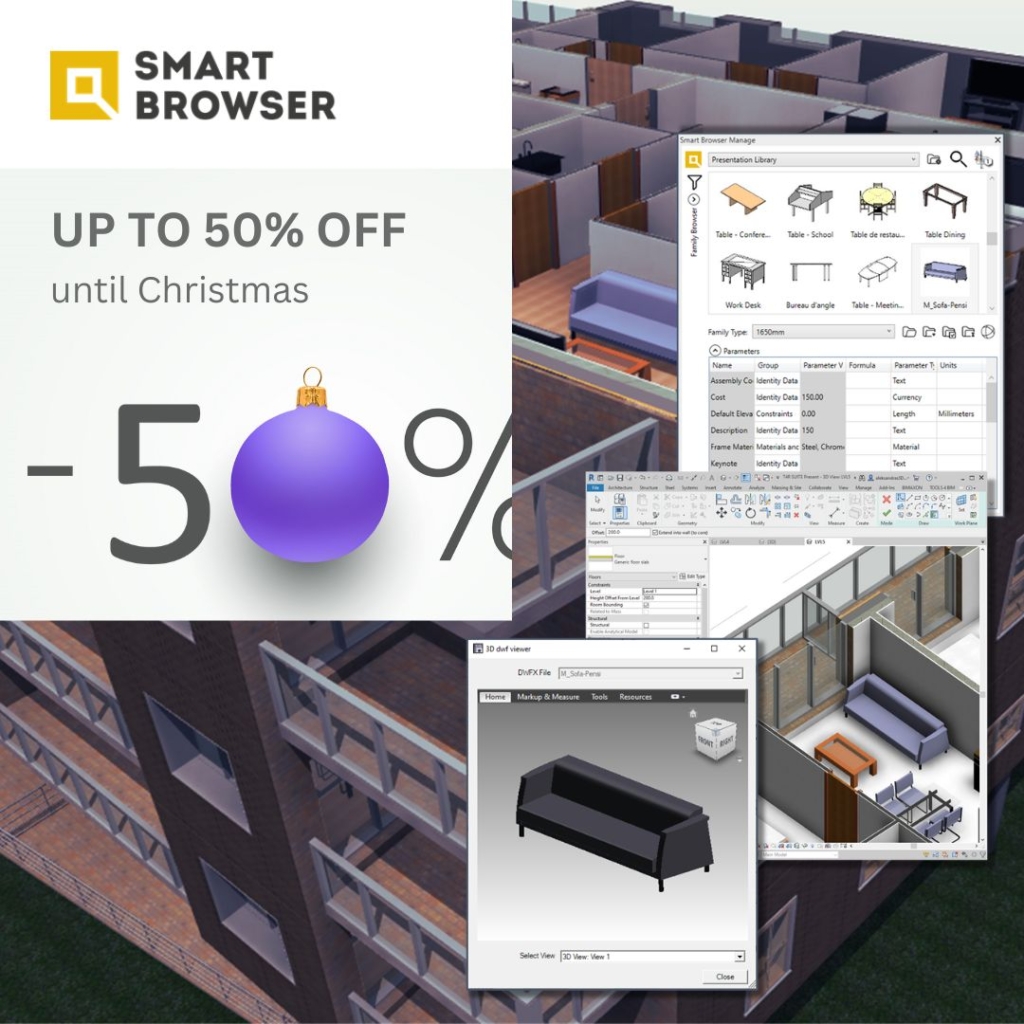 ---
We invite you to attend this webinar and discover the new possibilities that will connect manufacturers, family developers, BIM managers, and engineers. Get a trial with your own Smart Browser cloud account and test the benefits it can bring to you and your company. Start by taking a free 14-day trial of Smart Browser! Just download our TOOLS4BIM Dock – the shortcut to taking trials of AGACAD products. ↓
---