The new Agacad Helper is an interactive window that explains each setting in our software for Revit. So navigating configuration windows will now be even easier – for even faster work and top-quality results. Agacad Helper already functions in MEP Hangers and will soon be available in our other products too.

Say "hello" to a better user experience.
Always looking ahead to where the world is moving, at Agacad we're constantly enhancing the functionality of our software. That brings our clients ever more options and productivity, enabling them to continually improve their own processes in areas like 3D modeling and 2D documentation in Revit.
Over the years, all the innovations and added options have increased not just users' flexibility, but also the depth of configuration windows. We wanted to help you enjoy the full power of our tools and quickly find just the right settings for any need. Without having to stop and look things up.
That's why we developed Agacad Helper. To tell you, right at your fingertips, what different commands do and what different settings are for.
Using Agacad Helper
Open Agacad Helper by clicking the [?] button at the top right of the configuration window.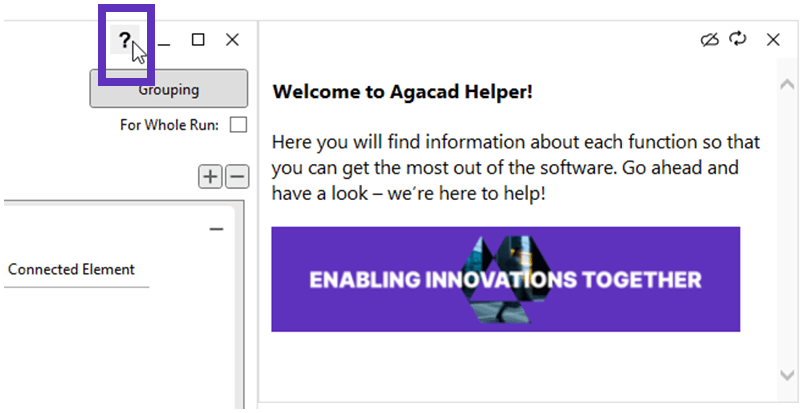 What information the Agacad Helper window shows depends on where your cursor is.
So, if you don't know what a particular setting is for, just hover over it, and the Helper will explain what it does.
Simple as that.
Working offline
There are two more useful things to note about Agacad Helper.
The first is that Agacad Helper always shows you the latest information since it's connected to the Agacad Cloud and updates come through instantly.
The second is that you can download all Agacad Helper data and access it even when working offline.
When Agacad Helper is offline, you'll see the cloud symbol crossed out, like this:

Agacad products that have the Helper
As noted above, so far Agacad Helper has been implemented in our MEP Hangers software. That means everyone who has or obtains a license or free trial of MEP Hangers can already benefit.
Stay tuned – soon you'll be able to quickly and easily access the Helper in more Agacad products.