AGACAD acquires SBS for 5D BIM capabilities and 7D potential
PRESS RELEASE – Vilnius, 22 May 2023
Deal expands Arkance Group's building and industry software team and portfolio
AGACAD, the Lithuania-based developer of advanced technologies for building information modelling and management (BIM) which was acquired by France's ARKANCE Group in 2021, acquired SBS Group, another Lithuanian software creator specializing in quantification, budgeting and project management tools for construction and engineering.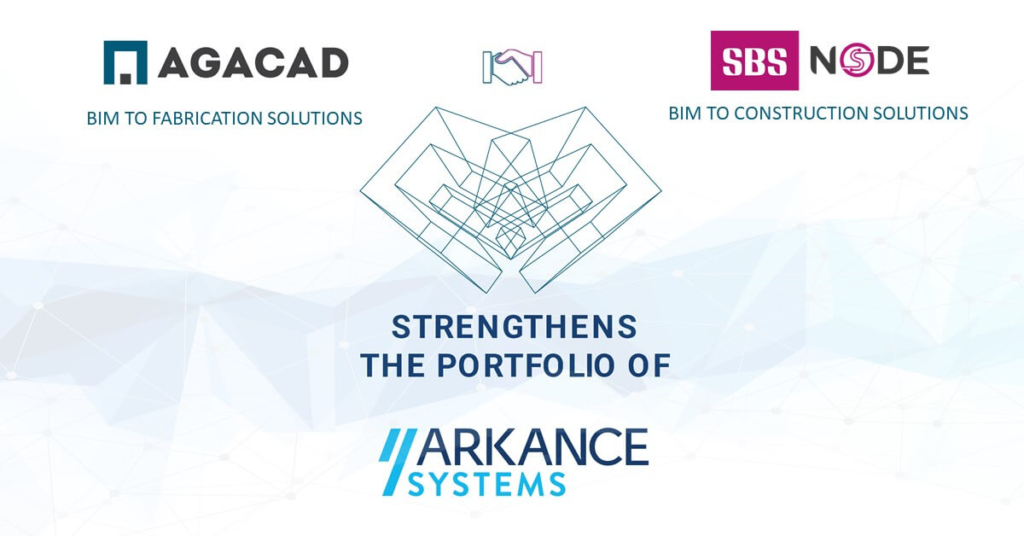 For AGACAD, whose software is used by over 13,000 architecture, engineering and construction professionals in 130 countries, the acquisition enlarges its already wide range of solutions for 3D design and data management with proven tools for the so-called fourth and fifth dimensions of BIM – time (project planning) and costs. It also expands AGACAD's team of developers with experience in software for the building and manufacturing industries.
"As an integral part of ARKANCE, we acquired SBS to fill out all five BIM dimensions and offer our clients full digital construction solutions with true BIM processes. We will integrate the SBS products under our brand and further invest to grow the team and journey on towards 6D and 7D BIM, i.e., sustainability and facility management," says Donatas Aksomitas, the Managing Director of AGACAD. "We'll make the tools available to users of our Wood Framing, Metal Framing and Precast Concrete packages for Revit, and to all for whom they're relevant."
Mr. Aksomitas notes that ARKANCE, Europe's leader in the digital transformation of construction and manufacturing and a subsidiary of France's GROUPE MONNOYEUR, has a large and fast-growing international network of software resellers and consultants. The group is actively investing in its what is becoming a strong developer hub in Lithuania. That positions it to sell proprietary products alongside those of major partners like Autodesk and Trimble, and to add further value for clients of all platforms through specialized custom development.
Gregoire Arranz, the CEO of ARKANCE, says: "We are delighted to have the SBS Group onboard. They further reinforce our software development team in Lithuania and extend our software production business with new capabilities to give our clients more control over the costs, impact and timeline of their projects."
---
About AGACAD
AGACAD is part of the ARKANCE Group, Europe's leader in the digital transformation of construction and manufacturing. For 32 years, AGACAD has been pushing the boundaries of technology for major process improvements that help our clients serve the wellbeing of their customers and advance towards a more sustainable world. The company's software for design, production, logistics, assembly/construction and beyond, including effective data management, is now used by 13,000+ users in 130 countries. In 2018, AGACAD become one of the Architecture, Engineering, and Construction (AEC) Industry Partners of Autodesk Inc., maker of Revit, the world's leading software platform for BIM.
Donatas Aksomitas, Managing Director
E-mail: donatas@agacad.com 
Tel: +370 687 97739
---