Architects know how important it is and how time-consuming it can be to generate accurate project drawings in Revit. To some degree or another, reworking drawings is always necessary, things like dimensions, tags, and other data, in order to end up with high-quality documents.
In this article, you'll see how our Smart Documentation plugin for Revit can help architects optimize their workflow.
What is Smart Documentation?
A Revit plugin that allows users to achieve high-quality documentation efficiently by automating the annotation features of Revit: dimensions, tags, legends, views, and sheets. It provides additional value through features that aren't in the out-of-the-box Revit, like element marking, data extraction, QR code generation, and Excel spreadsheet import.
It works via configurations that can be saved and used later, which means you only need to create the logic once, and then all the work will be done for you automatically going forward.
The examples shown below are just some of what the plugin can do, as it works with elements of most Revit categories and has many settings to help automate lots of unique scenarios.
Here are 8 ways architects can use Smart Documentation to more efficiently make drawings in Revit.
1. Automatically renumber grid lines
Designing a building and its attendant systems takes precision and accuracy and requires coordination between architects and other engineering disciplines. This inevitably results in changes that have to be made in the technical phase of the project.
Grid lines, for example, are often affected by interdisciplinary coordination, and it typically takes some time to get to the point where you can define your final grid line system.
Smart Documentation automates grid numbering, so you don't have to redo it manually yourself through each revision. That right there is a big step in minimizing repetitive tasks and human error. Not to mention saving time.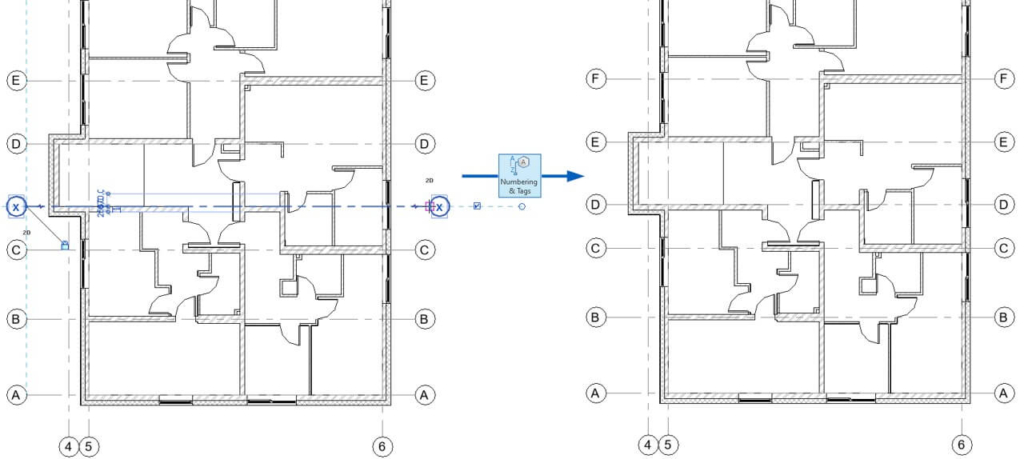 2. Place tags for multiple elements automatically
In any given project, the quantity of data to deal with is huge, due to not only the number of elements but also their associated BIM data (ID numbers, values, parameters, etc.).
Most of the time, these values have to be represented in drawings as tags. As these annotations regularly need to be updated, the time spent doing it is vast.
If you're working in native Revit, that is.
Luckily, Smart Documentation automates the process of tagging elements using configurations. The tagging rules you create can be saved for other projects, further extending your time savings.
If you find yourself spending a lot of time tagging elements in Revit, then Smart Documentation is definitely worth checking out. It can save you boatloads of time and effort and help improve the quality of your architectural documentation and drawings.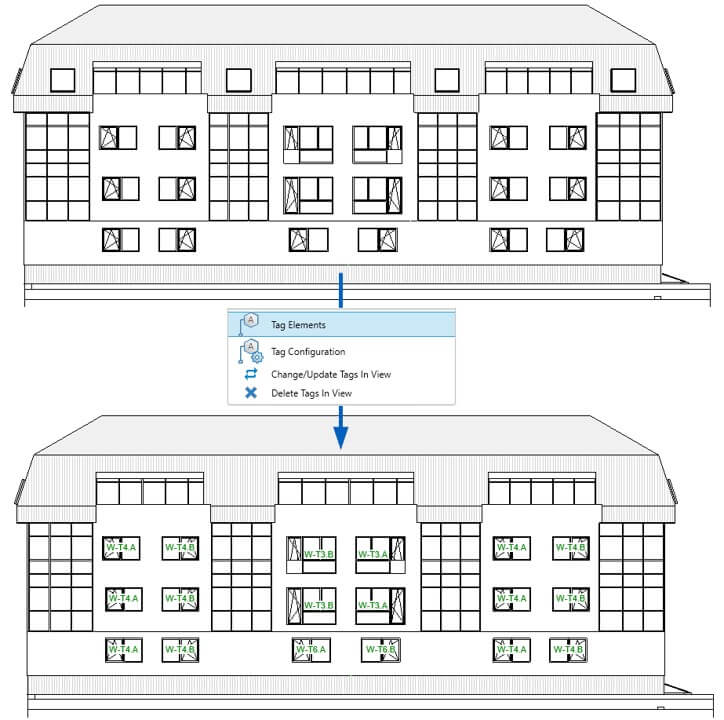 3. Sort & number Revit elements
Here are a couple of ways to sort and number your architectural project elements in Revit:
Name or number every element manually, one-by-one.
Use Smart Documentation's 'Numbering' feature to do it automatically.
Smart Documentation accomplishes numbering based on configurations, which can be saved for future projects or be used by your colleagues.
It has a lot of possibilities for creating any kind of numbering rules. And there are limitless sorting possibilities using parameters that can be applied to doors, windows, walls, structural elements, rooms, etc.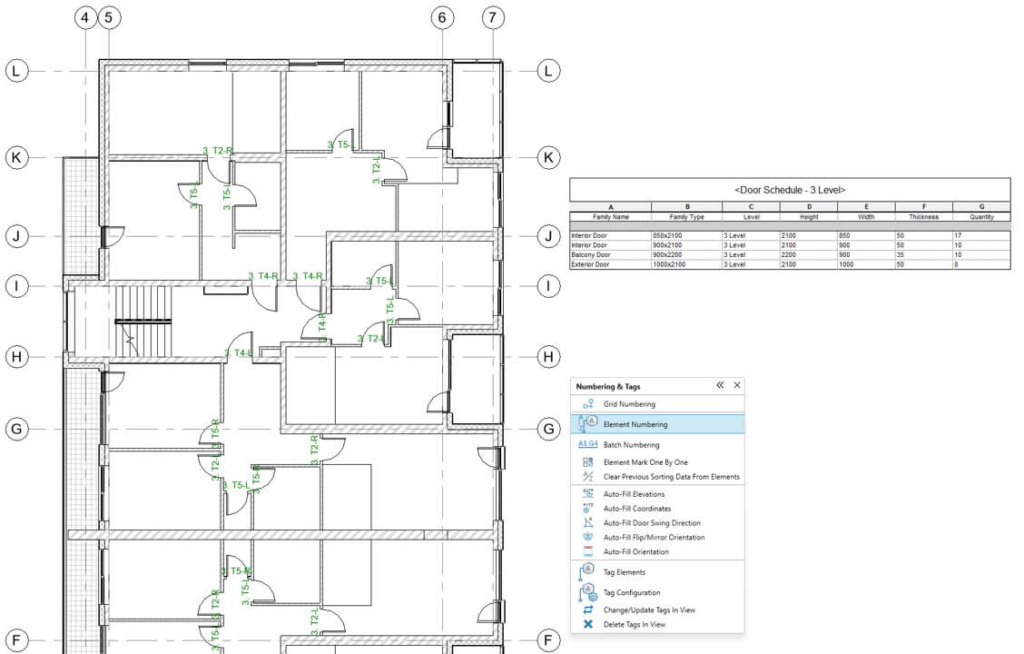 4. Auto-calculate element coordinates
When you're working on a Revit project, it's important to be able to show multiple element coordinates.
Catching the center point of elements with Revit's 'Spot Coordinate' can be a challenge, but never fear: Smart Documentation can do that automatically. These coordinate values will be entered into the selected parameter and later placed as tags in a view.
This is an especially time-saving feature when applied to large projects with many elements.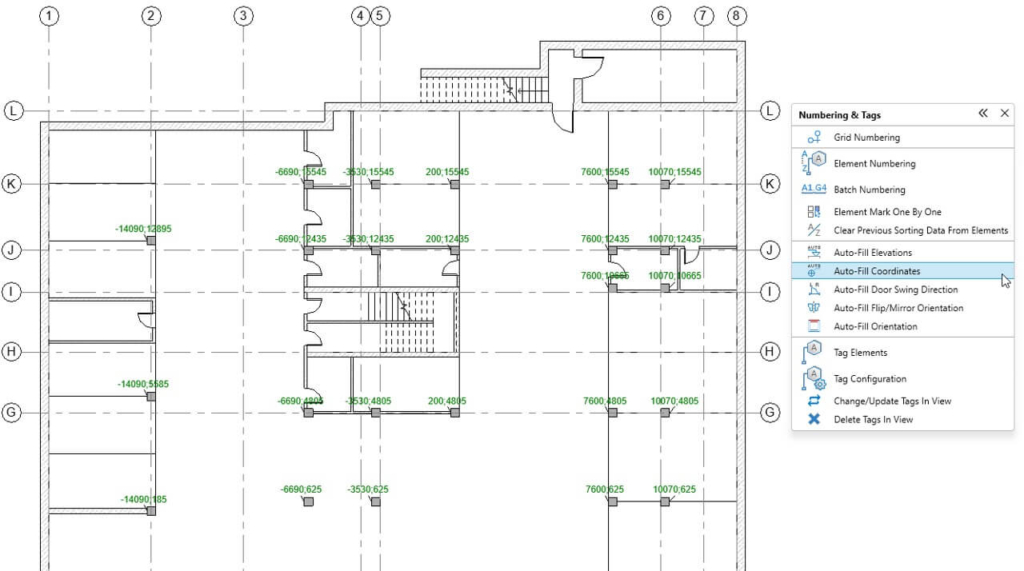 5. Create multiple dimension chains for floor plans & sections
When it comes to detailing your floor plans and sections in Revit, it's a pain to measure every reference point manually. And again, as mentioned earlier, you may have to do it repetitively, as some of the elements can move during the design and interdisciplinary coordination process.
Smart Documentation measures the selected element category as well as any gaps in between the elements or categories. The Predefined Dimensioning feature makes creating dimension chains a cinch: just select two points, and it catches all the elements in between. Done.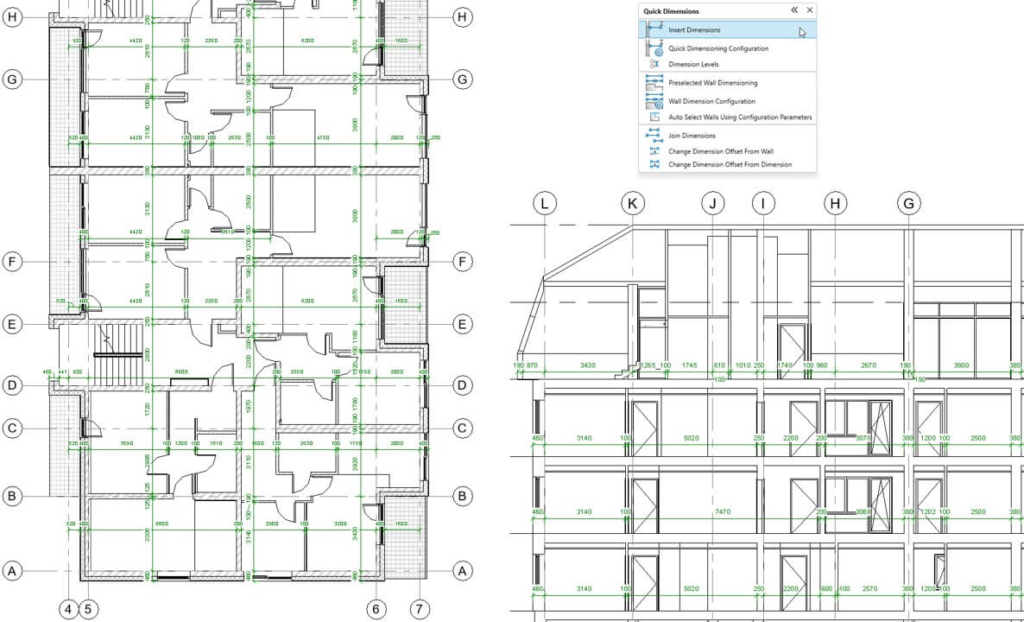 Smart Documentation can also create multiple dimension chains for facades at once, maintaining proper symmetry along the walls and basing everything on your configurations. It's especially useful in architectural floor plans for identifying grid line positions, wall corners, and openings.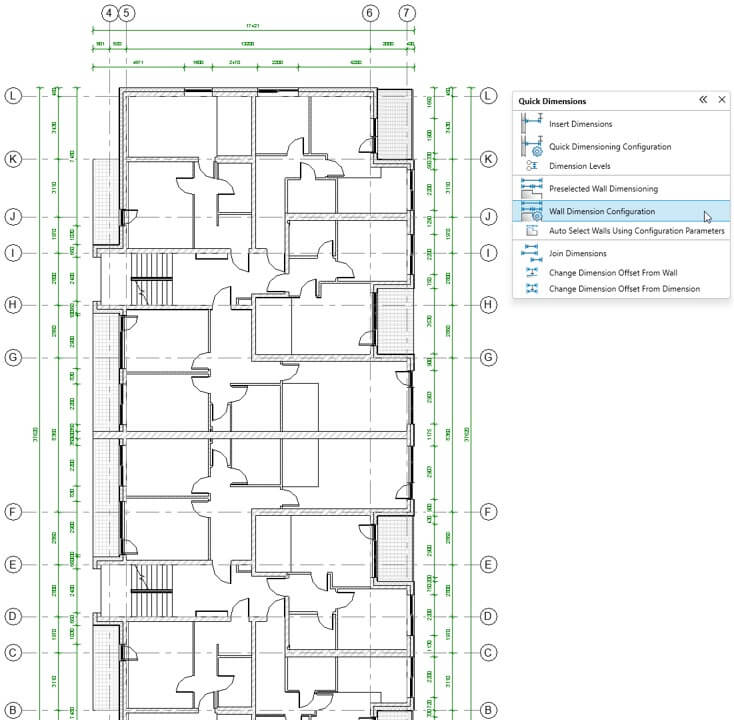 6. Create technical documentation for numerous elements using legend views
With Smart Documentation, it's quick and easy to create technical documentation, legends to identify elements, and other structured data based on the parameter values of elements of a single category or multiple categories. Table layouts that can be governed via the configurations are virtually limitless. What you need to have is just a sample row/column of what you need, and everything else will be multiplied instantly based on the configuration rules.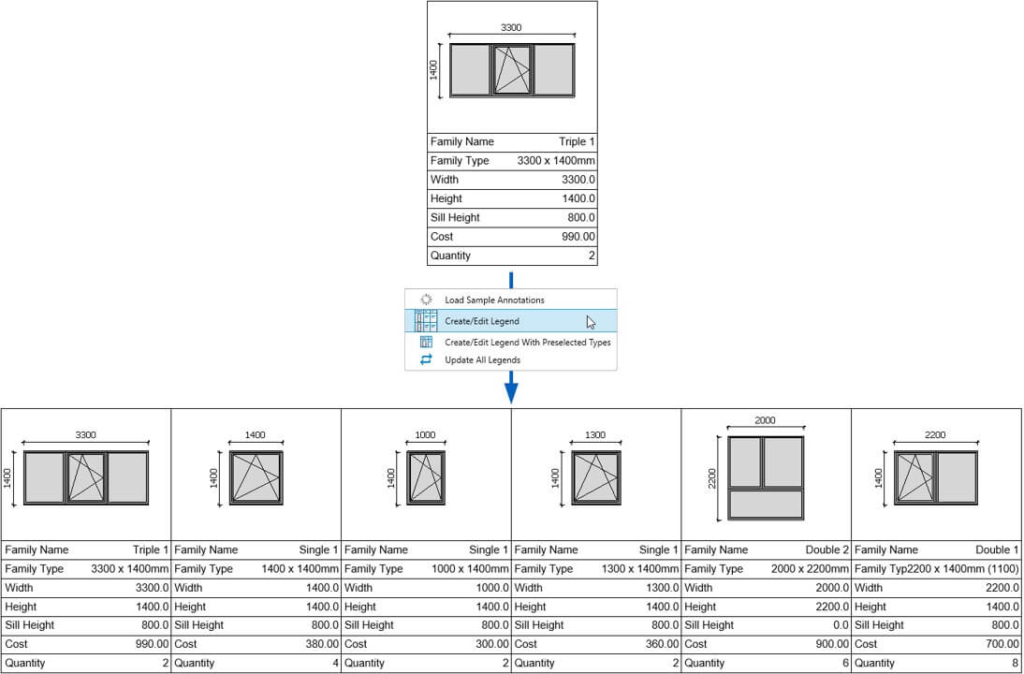 7. Import Excel data into Revit
In the industry, it is very important to keep everything up-to-date and optimize the workflow to skip tasks that do not bring real value. So, having some architectural project data in other platforms, such as Excel, is quite a common practice.
Here, Smart Documentation fills a gap with its ability to import Excel spreadsheets into Revit as a table that can be updated at any time. This is an essential tool for creating a full set of documentation in Revit and not have part of that documentation isolated in some Excel file.
The plugin is also great when it comes to fonts, line sizes, and overall table design. Either copy it from Excel or replace it with Revit text and line types.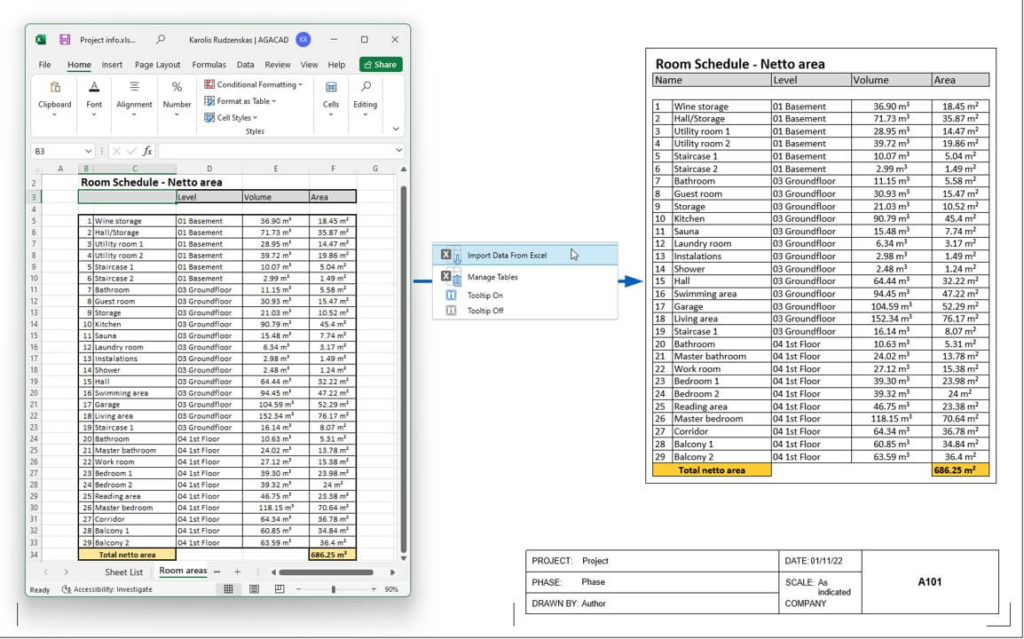 8. Create multiple element views
If you prepare similar types of drawings and documents over and over again, you understand how time-consuming it is. All the more so if you have a lot of them to begin with, as is the case in huge architectural projects or multi-story buildings. Those certainly require preparing multiple repetitive sheets.
Sheets contain views, schedules, legend views, and other secondary data. Needless to say, placing every view manually takes a lot of time.
But not with Smart Documentation. It automatically creates and places views on sheets, taking the load off your shoulders.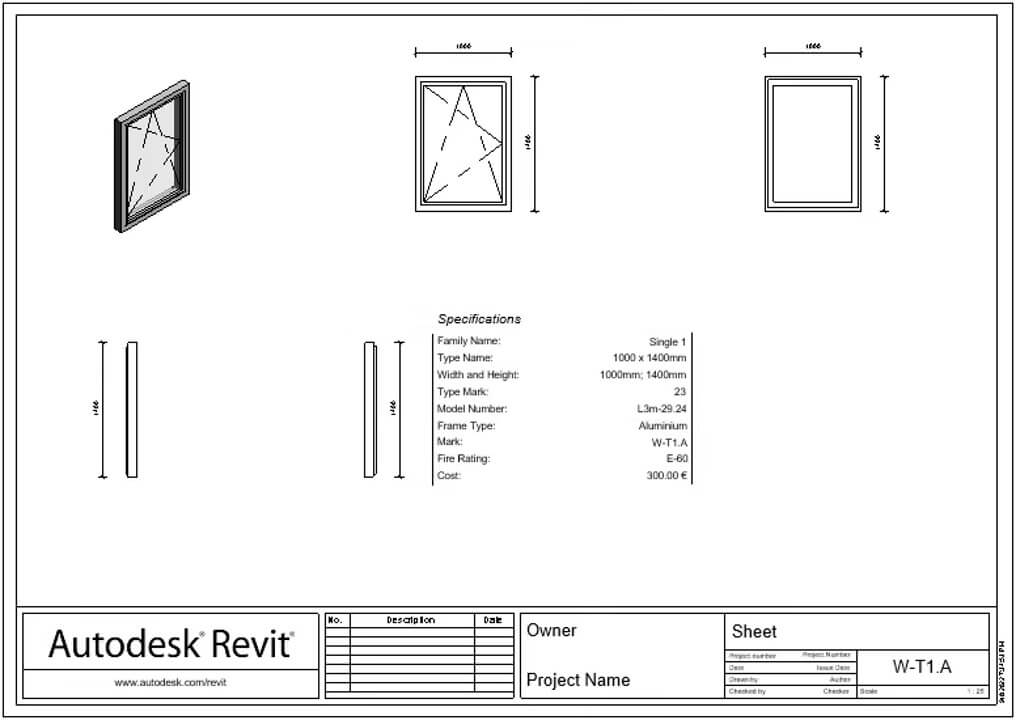 ---
Trusted tools for Revit project documentation
Smart Documentation drastically reduces the time needed to turn 3D models into deliverables by automating Revit's manual, labor-intensive annotation processes. No more placing dimensions, tagging elements, creating views and legends, and placing them onto sheets by hand.
Not if you have Smart Documentation in your toolbox.
For more on how Smart Documentation can save time for architects, check out this webinar recording: