New Partnership Will Help Increase AGACAD's Product Expansion in France and Other French-Speaking Countries
This summer brought good news to AGACAD. Our company has started a long-awaited partnership with Eurostudio Infographie, the company that is one of the most important Autodesk software resellers in the AEC Market in France.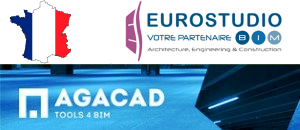 From the July, 2016, Eurostudio Infographie represents AGACAD in France and other French-speaking countries: Belgium, Luxembourg, Suisse, Guyana, French Polynesia, French speaking African countries, Canada.
Eurostudio Infographie and AGA CAD Started Collaboration in BIM Solution Adoption for the French Market
Both companies will work closely to adapt all AGACAD applications for Autodesk® Revit® for the French market, i.e. all AGACAD software will be translated into French. Because all add-ons and BIM solutions for Revit, developed by AGACAD, are accessible through the Dock TOOLS4BIM, an independent window in Revit functioning as the project manager window, soon French Dock will be released.
"We are really specialized in Revit and BIM, therefore our team was looking for productivity-boosting tools for Revit that we could offer to our customers to help them increase their work efficiency. We hope that AGACAD applications for Autodesk Revit will help to solve Revit software deficiencies and provide our customers with more benefits than work with simply Revit," – says Frédéric SALLARD, Sales Engineer at Eurostudio Infographie.
Eurostudio was founded in the 1990's by architects. Today the company aims at both Architects and Engineers. Eurostudio Infographie is covering different disciplines: AEC / MEP / Structure for Architects and Engineers in Building constructions. The company has more than 3.500 customers in France, with references like Jean Nouvel, Jean-Michel Wilmotte, Dominique Perrault, Jacques Rougerie, and many others.
Eurostudio is certified Autodesk Gold Partner which specialties are:
Selling and Promotions of the software in AEC and BIM
Trainings of these Software
Consulting in BIM projects and process
For the French Market:
BIM Solutions for Wood & Metal Framing, MEP Engineering, and BIM Data Management
AGACAD products help to speed up daily tasks, enhance Revit project quality, save time and money for architects, structural and MEP engineers, and building contractors as well. With resellers and partners in a number of countries in global markets, AGACAD implements BIM applications for Revit worldwide. Over 10.000 commercial licenses are used in more than 130 countries at the moment.
"We work with Revit users from many countries closely, and they tell us we're helping them to upgrade their BIM process efficiency to upper level. As a pioneer in Revit application development, operating since 1991, AGACAD sees a huge value to develop Revit extensions for French-speaking region. Our team expects that partnership with Eurostudio could help us to better understand business problems and needs of Revit users in French market," – explains Donatas Aksomitas, CEO of AGA CAD Ltd.
Joined forces of AGACAD, Autodesk Authorized Developer, and Eurostudio, Autodesk Gold Partner, will help to make application for Revit development under the specific needs of French market designers and fill a gap of efficient BIM solutions in France and other French-speaking countries.
All information about AGACAD BIM solutions for the French market customers is accessible at http://www.eurostudio.fr/logiciel/agacad.html.
---