MEP Hangers update: Define your own rules
A new update of MEP Hangers BIM solution for Revit has been released.
With the latest change, MEP Hangers witnessed a comeback of IFC compatibility as well as the addition of a new feature that allows you to create more precise placement rules for hangers and supports.
IFC Compatibility
Has it ever happened to you that you didn't have an RVT file to link and only IFC was available? Not a problem! Just link IFC, bind it, and replace all your IFC pipes and ducts with Revit models using our MEP Hangers tool. It only requires 2 easy steps.

First, set the insulation thickness, if any, in the configuration:






Now you only have to click "Replace IFC Ducts/Pipes" and choose which elements will be replaced.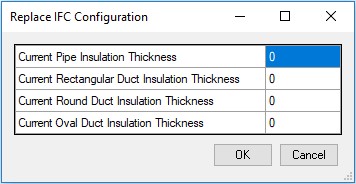 ---
Rules for Placing Hangers
The main news of this software update is actually related to the configuration settings. Now you can set new and more precise filters while selecting where you will connect hangers and how they will be distributed throughout your system. This means you can choose the type of hanger depending on the pipe diameter or duct shape, the hanger spacing depending on the length of the run, and insert hangers for the whole system. Everything with one click!
Here's where you can configure those settings. In the Configuration menu, you'll find 2 new buttons – Host Filter and Additional Filter:

Both buttons will open a menu (as seen below) from which you can access the list of shared parameters. In this panel, you'll be able to select filters for your elements.

Using the host filter, let's say you want to make rules for placing different hangers depending on the diameter of the pipe. Here's how the settings would look:

Or, say you need to limit some hanger type only to ducts of a certain diameter. Here's how that would look in the settings:

Or maybe the type of hanger should depend on the weight of the pipe or duct? No problem:

With those new options, you can establish how the whole system will be supported with just one configuration of rules.
Check out the 24-min webinar we hosted on this topic!
---
So, those are the updates that have been made to MEP Hangers this time around. Current users: if you haven't already done so, click the little red dot in the TOOLS4BIM Dock to download the latest version and put these updates to good use.

Not yet a user of MEP Hangers? Take a free trial by downloading the TOOLS4BIM Dock below for your version of Revit, open Revit, and select the tool you'd like to try out.
---