New Truss+: Auto-generate complex roof truss systems in Revit
The new enhanced extension for Truss+ is here! In addition to automating complex Wood and Metal Truss systems, the latest versions of AGACAD's Wood/Metal Framing Roof are more user-friendly and flexible, thanks to additional options for creating and freely modifying various roof truss layouts and individual truss structures.
Moreover, Truss systems can be created for Roofs with different Hip End and Side Pitches, and more Truss Overhang framing variations will be available for your projects.
Let's look through the latest updates one-by-one.
1. GENERATE AND MODIFY 3D GRIDS CREATED BY ONE ROOF LINE
Using Truss+, we can build full, complex truss systems at once with the configurable 3D grid, skipping the limited and time-consuming standard process of inserting Revit® truss families.
Working with 3D Grids is now much easier. Whereas in the past we had to select multiple symbolic model lines in order to generate the 3D Grid, now if the Roof is created by the "Pick Walls" command, then we can generate the Grid by selecting only the Roof and one symbolic line.
Firstly, click "Insert Truss System Grid by one Roof Line", then select the Roof, the symbolic line, and choose a System Grid Type:
All pitches, overhangs, setback, and other values were adjusted automatically, so you don't have to calculate anything.
Beforehand, after generating the grid, we only could modify it by using the function "Modify Truss System Grid", but now, we can also do that by simply changing the "Instance parameters".
In this case, I removed the "Set Main Roof" tick mark so that I could insert the Valley Set Grid for this system later. In this example, I've added 3 plies for the Girder:
Finally, I selected the grid and generated the Valley set Grid:
I used the same "Insert Truss System Grid by one Roof Line" function to generate other grids in this roof. For gable ends, I kept the "Set Main Roof" tick mark on and generated the "Last Common Truss" so that I could later automatically array trusses throughout the roof:
That's it! All 3D Grids have been created:
2. GENERATE TRUSSES BY 3D GRIDS and AUTO-ARRAY THROUGHOUT THE ROOF
After automatically generating Trusses on the created 3D grids, we can automatically array them throughout the roof:
After selecting the Truss and using "Copy/Array/AutoArray Roof/Floor Truss" and selecting "Auto Array", Truss+ automatically calculates that 5 trusses are needed to be arrayed to the left of the selected truss, to the "Last Common Truss" generated before:

Finally, after auto-arraying trusses for both sides of the roof, we can automatically array them in the middle by selecting two trusses and "AutoCopy Two Trusses" – in the middle:
That's it!
3. COMPLEX TRUSS ROOF FRAMING
One of the main characteristics about the new Truss+ is the possibility to combine the old method, which lets us "Insert Truss System Grid by Roof Lines" and the new method which can "Insert Truss System Grid by one Roof Line". That way we can create especially complex truss systems for different situations:
Another example:
Trusses generated:
4. CREATE UNIQUELY SHAPED, PARAMETRIC TRUSS FAMILIES EVEN FOR MULTIPLE ROOFS
Truss+ makes possible the creation of uniquely shaped, parametric truss families based on model lines and even multiple roofs (in the past, we could create them only for one continuous Roof modeled in Revit) for immediate use in your projects using the Truss Builder.
As you may already know, Truss+ RT has a built-in Truss Builder that allows the user to draw a custom truss design and use it in a different project.
After drawing the Model Line at the correct level, we can select it and use "Create Roof Truss Type from Model Lines":
The Truss Builder window will open, with a scheme created based on the Model Line (Bottom Chord) and the shape of Revit Roof (Top Chord) and we'll be able to sketch a custom web:
Result:
5. MODIFY TRUSSES USING THE TRUSS BUILDER
From now on, the Truss Builder can be used not only for new creations but also for modifications. Automatically generated trusses can be pushed to the Truss Builder, and from there, we can design the desired web.
Just select a Truss and use "Modify Roof Truss Type":
The Truss Builder window will open, with a scheme already created based on the Top and Bottom Chords of the selected Truss. In that scheme and we'll be able to sketch a custom web: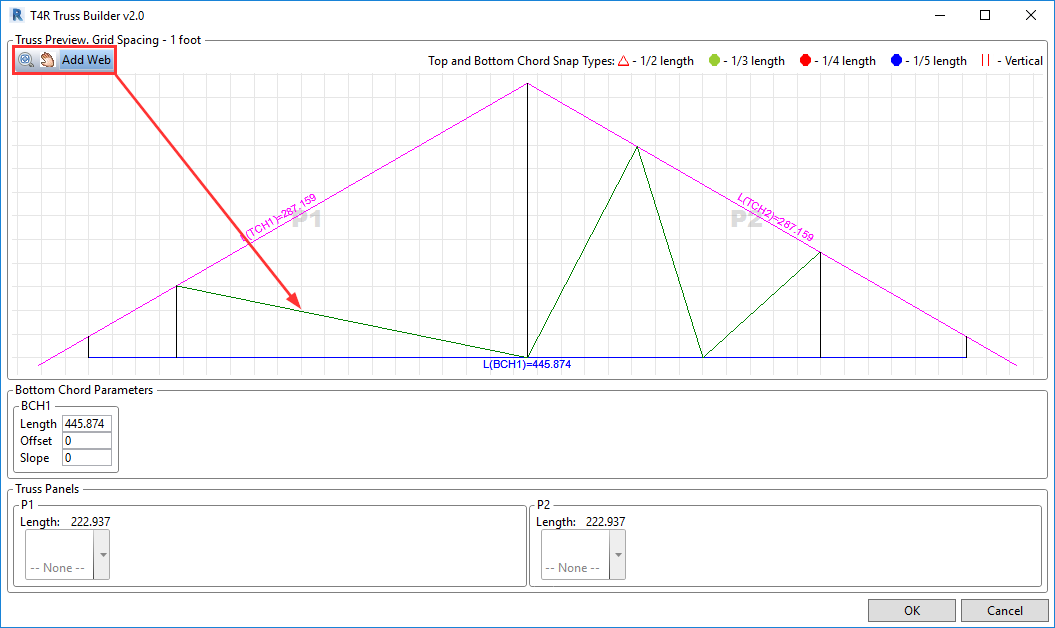 Result:
6. TERMINAL TRUSS ROOF
Truss+ automatically converts a Step-Down Truss System to a Terminal System, based on the span:
7. REPLACING TRUSSES
In case you need to replace a Truss that has already been generated in your roof, it will be really quick and easy with the new versions of Truss+.
The process is really simple: You'll be able to select one Truss or Trusses from the Same Group, Identical Trusses from the Same Group, or Trusses from the Same Grid. Then, replace them automatically by choosing the needed Truss from the Database or the Model:
8. OVERHANG FRAMING
Lastly but not least, in the latest versions of Wood Framing Truss+, you'll have more truss overhang framing variations to choose from:
---
SOLUTION
Compatible with Autodesk® Revit® 2017, 2018, 2019
The definitive solution for wood/metal framing with Revit
Top Revit users call AGACAD's Wood/Metal Framing Suite the most powerful and flexible BIM software on the market for constructions with multi-layer timber-frame or metal-frame walls, floors and roofs. That includes prefabricated panels, rafters and trusses, and great SIPs, CLT and post-and-beam solutions.
Advanced automation and built-in best practices help BIM professionals make optimal choices, move much faster, and avoid errors at every stage – from design and documentation to fabrication and construction.
It's easy to quickly batch add, modify or mark just the right elements or parameters, distribute details, flexibly manage openings and connections, and find clashes. Frames dynamically update and adapt, ensuring that shop drawings and cut lists are always accurate.
---