Previously Cut Opening solution could lay out openings only for MEP line based elements. Today I'm glad to announce that Cut Opening is capable of working with the Structural Framing category too!
Cut Opening uses Interference Checking based in Revit and transfers all the clash data to Cut Opening software. We use special workflows to compute all the clashes and add all needed data to openings.
The Cut Opening software allows users to insert openings with predefined opening size, side, bottom, top and depth offsets, join openings if they are near each other or cut openings for elements that are partially clashing. Let me introduce the configurations that are available:
Opening size
There are two different ways to define opening size for beams:
1. Apply Cut Offset:
Users can define Cut Offset around the element
Users can define Top and Bottom offsets
Different size beams can have different offsets
2. Apply defined opening size:
Users can set defined opening Width and Height for different beam sizes
Joining Openings
Openings can be joined if they are near each other. We have the workflow joining openings as the one we follow defining opening sizes. We use different distances between beams for various beam sizes:
Openings may remain disjoined or joined depending on the defined rules.
Partial Interference
Beams that are clashing partially can have two different opening options:
Openings that fully opens the structure
Openings that are hosted on a wall and have special Depth Offset from end of the Beam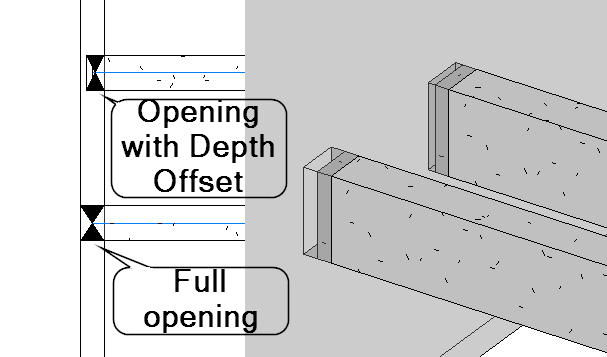 Now you can more easily prepare your own configurations and layout Openings for beams!