Kaunas University of Technology: "AGACAD's training transformed our collective understanding of BIM."
Kaunas University of Technology (KTU) turned to AGACAD for an innovative training program. The goal? Transform 25 faculty members into a team of BIM experts ready to conduct integrated design projects and to more effectively teach BIM principles and practices to students at all levels. The result? KTU became the first university with a BIM team in the region.
Client Profile
KTU is one the largest technical universities in the Baltics. Founded in Kaunas, Lithuania, in 1922, it is known for its business links, research leadership, and interdisciplinary programs.
KTU has more than 10,000 students in 149 study programs in 9 faculties.
Business Need
At the top of the Faculty of Civil Engineering and Architecture's list of priorities were integrating BIM into all study programs, exposing students to state-of-the-art technology, involving private companies in the learning process, and promoting close cooperation between architects and engineers.
KTU sought the help of an industry leader to boost its lecturers' capacities in order to achieve these strategic objectives. Ultimately, it selected AGACAD.
Solution
AGACAD's Autodesk® Authorized Training Center – one of the first to be established in Europe, back in 1988 – designed and delivered an innovative 6-month BIM training program for 25 lecturers in KTU's Civil Engineering and Architecture Faculty. The program wrapped up in January 2016.
During the training sessions, held once or twice a week, the faculty members learned to use BIM software for integrated design, work as a team, and more effectively manage change.
Putting their new know-how into practice, together they created detailed models for small and large real projects.
Results
The training gave KTU a competitive advantage as the home of the country's first university BIM team. "There is no other teaching team that has such experience working all together on projects, using integrated software, and applying all the working principles of BIM in real life," stated Darius Pupeikis, Vice-Dean for Studies at KTU.
"AGACAD's training transformed our collective understanding of BIM and gave professors valuable ideas for how to teach BIM at a university," Pupeikis added.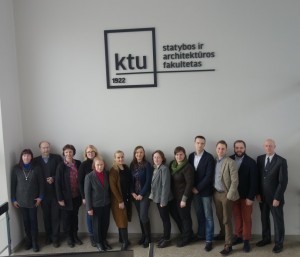 KTU lecturers praised the program for its dynamic combination of theory and practice, saying it opened their eyes to the tremendous possibilities BIM offers and how it is changing the very principles of design.
Even more importantly, they said, it also gave them hands-on experience – something that is invaluable both for them and for their students.
This initiative with KTU is part of AGACAD's vision of working together with other AEC organizations "For the Good of the BIM Industry". We actively support progress in the creation and development of the BIM industry in a market that offers benefits for all. Together we're creating tomorrow's AEC!
For more information, contact us at info@agacad.com or +370 618 55 671.
---