How to change category of Revit families in batches
Q: Is it possible to batch-change the category of families in a project?
A: Yes. You can change the category of your families in batches by using Smart Browser. Here's how.
To exchange families inside your project, you have to add an extra parameter for those families and write some notes for Smart Browser. Smart Browser doesn't see when you change categories, and it can't upload a new family, but if you change category and add a parameter – it will see and change the families in your project. Let's see how to do it.
1. 'Add Family Parameter'
2. Fill something in that parameter:
3. Save and run modifications:
4. After that, run 'Check and Update Families from Library':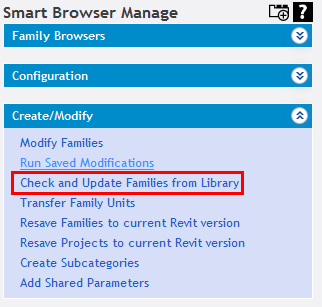 5. The tool will find those changed families, and you'll be able to exchange families in your project for the new ones with the new category and extra parameter.
That's all folks!
---