Challenge for Revit® Users: Identical Assemblies with Unique Shop Drawings
Autodesk® Revit® users, BIM managers, clients and consultants interact in many countries in many different ways. All of us strive for the best, but knowledge and experience don't come in one day, so we usually complete our tasks in the way "we know how". In our company we have more possibilities to collect experiences and find the best solutions, so we would like to share them with others, for the good of BIM industry.
I hope this trick will help you save some time and will solve some headaches while working with assemblies.
The thing is that if you have two elements with the same geometry and the same hosted elements etc. – same assemblies while working in Revit, Revit will name it automatically with the same name.
That's a good thing, because they are the same, however sometimes we have a request to prepare unique workshop drawing for every element in the building, even if these elements are the same.
So how can we solve this? The answer is simple – just add parameter to the one of your hosted elements which is hosted to the main element. If the element doesn't have hosted elements, edit family of the element and add parameter in it. It must be inside family instance parameter, that's why you can't add them directly to the system families like walls or roofs, but you can do this by using other assembly elements.
I have added shared text parameter – Unique value to one of my connection details and entered different values for them – 01 and 02.
And after we have elements with different shared parameter values, let's try to create new assembly from the same element as before:
Now you can see that we can give unique name to the assembly and prepare shop drawing for it, even if it is exactly the same as PW-1 assembly.
Although, for this purpose you will have one more parameter which you have to enter to every instance, and this might be a big headache for big projects. You can solve this easily with the help of our applications for Revit – Sort Mark or BIM Tree Manager.
Select elements which unique values you want to define and select Element Numbering command from Sort Mark add-on or Sort Mark function that is included in functionality of BIM Tree Manager:
or
Select existing parameter where the tool will place unique values:
Use Instance:Id parameter in the Numbering tab:
Then Calculated: Sort Mark Number in Sort Mark tab to get the result: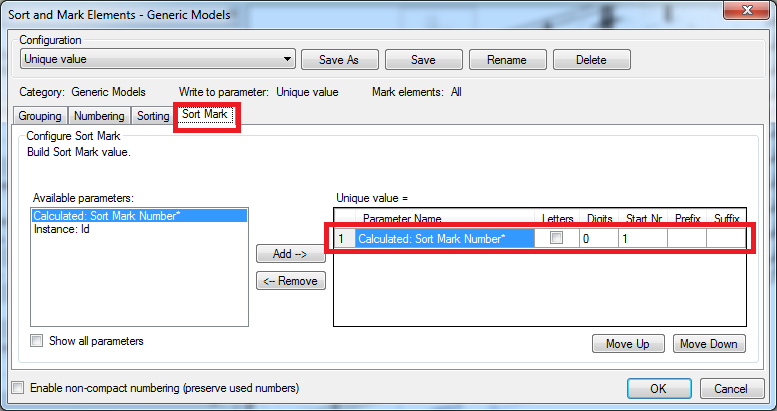 That's it. Our tools for Revit Sort Mark or BIM Tree Manager will make unique values for every Grout tube element and you will be able to create separate Revit shop drawings for every element.
I hope you find it useful and like it, use it, and share it.
---