BuildUp scales offsite construction with AGACAD and Arkance Systems support
AGACAD's Metal Framing Suite for Revit and CNC Exporter, backed by local partner Arkance Systems BeLux, have helped an innovative producer of modular buildings based in Belgium optimize and ramp up its sustainable offsite operations to meet surging international demand.
Client Profile
BuildUp designs, fabricates and assembles custom buildings, addressing modern construction challenges in an innovative, sustainable way which has attracted a strategic investor and is driving international expansion. With its headquarters and factory in Aarschot, Belgium, BuildUp is now active in Belgium, the Netherlands, France, Switzerland, and French and Dutch overseas territories.
Partner
Arkance Systems BeLux is a regional leader in the supply of digitalization solutions for construction and industry, ensuring that digital transformation results in more effective business processes.
Business Need
BuildUp was born nearly a decade ago as the Belgian SME 'beSteel'. It became market leader in all of Benelux for the design and production of light steel profiles and frames. But the company saw bigger opportunities for using offsite production to make construction more sustainable and deliver better buildings with greater energy efficiency. The global construction group BESIX shared that vision; in 2021 a subsidiary of BESIX took a minority stake in BuildUp to support its startup-like trajectory.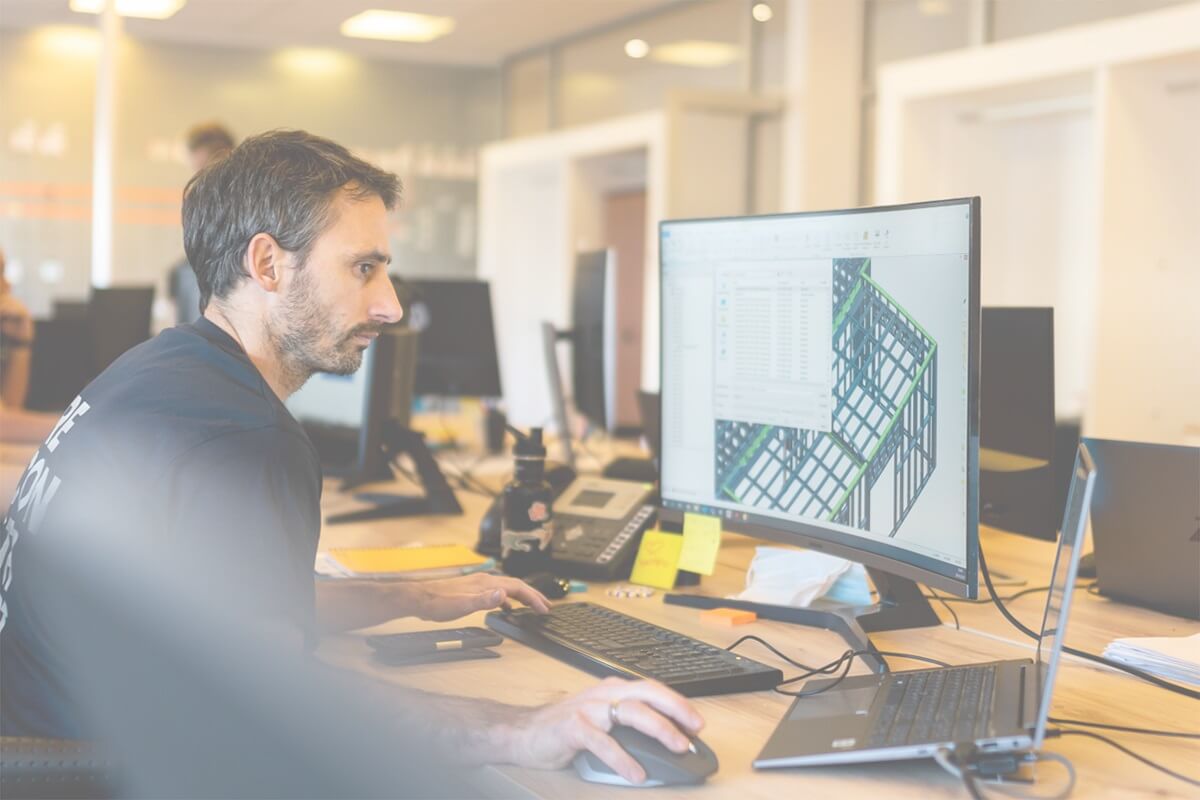 "Circular construction is the future. The market needs to become even more energy-efficient and sustainable, thus many will turn to offsite building. Many older buildings need renovation for energy efficiency too. There is huge potential," Tim Eggermont, BuildUp's Chief Operating Officer, says.
Scaling up and becoming maximally sustainable and energy efficient meant technological change.
"To meet the high demand and high requirements in the sector, we had to fully digitize and automate our pre-construction activities," Eggermont recalls. The company was already using Autodesk Revit for 3D project design. Now it needed to do engineering in 3D as well, send data to CNC machines for precise fabrication, and always have accurate data on quantities and costs. In part, that meant doing full-fledged building information modelling and management, or BIM.
Solution
The Benelux division of Arkance Systems, as expert consultants and a digital solutions supplier, worked closely with AGACAD, the developer of today's only true BIM software for metal-frame structures, to put together and implement a powerful set of tools and workflows for BuildUp.
The Belgian building fabricator began using AGACAD's suite of BIM products for automated metal framing in Revit, as well as its CNC exporter. The Metal Framing add-on lets Revit users design multi-layer light gauge steel-frame walls, floors and roofs, including prefabricated panels, rafters and trusses. It also generates views with automatic dimensions for wall panels or segments and accurate bills of materials and shop drawings to ensure quality production and accurate assembly on site.
Peter Bruggeman, a BIM specialist for Benelux at Arkance Systems, notes the solution marked both an upgrade and a simplification of life for BuildUp, which had been using several different software packages for different purposes, all of which were now covered in the one Revit environment.
AGACAD Metal Framing Suite enables advanced framing automation for multi-layer, LGS frame walls, floors and roofs.
AGACAD's Metal CNC Exporters convert the framed model with all the information data and geometry inside the Revit project into a format readable by your CNC machine.
Results
BuildUp's Tim Eggermont says the result has been a successful move to digital offsite construction, in line with the company's commitment to delivering buildings on time, within the agreed budget and aligned with ambitions to be maximally sustainable and energy efficient. All elements –including the structure, windows, doors, insulation and claddings– are designed by the company's engineers, produced at its factory, and then transported on site for rapid assembly.
"Thanks to the Metal Framing tools and enhanced Revit environment, we can develop everything in the same model. This is a huge advantage for working together quickly and efficiently and adapting to our customers' specific needs, and the final results are better," the COO says. BuildUp can now better optimize structures at the design stage and coordinate to reduce waste and transport. It also has better cost control and can plan more accurately to minimize construction time on site.
In its recently completed Wattrelos project in Northern France, BuildUp renovated 153 occupied houses to make them energy efficient. "We covered the existing houses with facades and roofs made offsite, significantly reducing heat loss, power consumption and carbon emissions," Eggermont notes. Having the entire process digitised makes the constructions future-proof, he adds.
Bruggeman says that, to ensure success of BuildUp's digital transformation, Arkance Systems' engineers have helped the company analyse and improve its processes for design and data management, leveraging the most appropriate technologies available on the market at every step.
The fact that AGACAD is also a part of the ARKANCE group of companies has made working together for and with this growing international client especially easy and beneficial – from training and workflow ideas to more technical matters of software implementation and further development.
"We continue working with BuildUp as they grow and evolve, helping analyse their processes to see where even greater efficiency can be gained," Bruggeman notes.
The story is based on the article BuildUp | Revit & Metal Framing
---
This client relationship exemplifies the AGACAD ideal of "Building BIM Together!"
AGACAD is a member of ARKANCE, Europe's leader in the digital transformation of construction and manufacturing, and for 30 years now has been creating tomorrow's AEC. Our solutions for BIM professionals – with 13,000+ users in 130 countries – share top practitioners' insights and automate best practices to eliminate unnecessary tasks and let clients focus on work that creates value.
For more information, contact us at info@agacad.com or +370 618 55 671.
---