Effective management of MEP supports in Revit® models
MEP Hangers provides a set of tools for distributing hangers and supports along ducts (round or rectangular), pipes, cable trays, and conduits.
MEP Hangers allows users to work with functionality beyond that contained in Autodesk® Revit®. This BIM solution expands the Autodesk possibilities and lets users work with hundreds of elements at the same time. With MEP Hangers, Revit users can distribute hangers and supports along line-based MEP elements using the most popular distribution rules.
This application for Revit allows users to select preferred hangers and the manner of distribution while tool automatically adapts hanger size and it's distance and angle to the structure. Users can also predefine the structures to which hangers and supports should be attached. Need to split a duct? No problem. MEP Hangers offers many splitting possibilities that follow the same rules as for hanger distribution. This solution has exclusive functions distributing hangers and supports in Revit MEP projects.
MEP Hangers works with parametric families with standard set of specific parameters. Using such families, users can distribute hangers and supports that will attach to any structure.
Features
Customizable rules allow you to place multiple hangers or supports on ducts, pipes, cable trays, conduits in one go. The most popular rules are already created for placing hangers or supports, but the user can still modify or create new ones.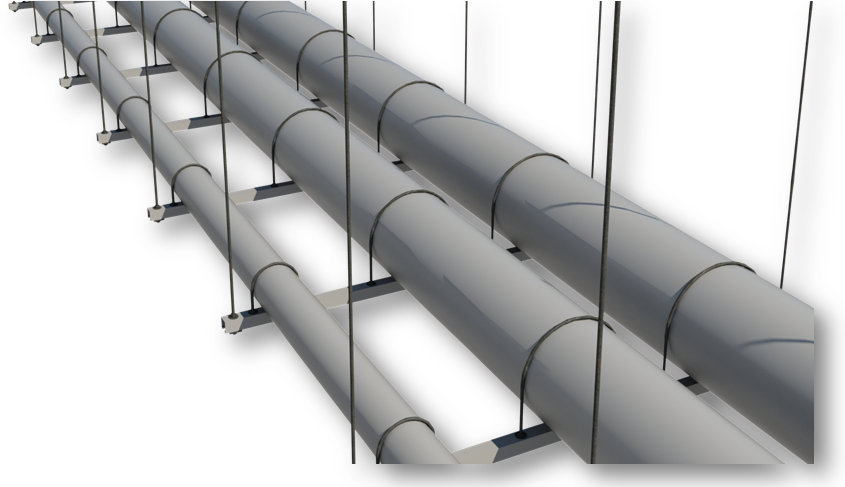 Hangers and supports can be attached vertically or horizontally to roofs, floors, walls, structural framing, and columns from the current or linked projects. The tool has no problem with sloped surfaces or sloped MEP elements.
Hangers or supports can be distributed by fixed or maximum spacing or by connecting to every structural element that is above or below duct, pipe, cable tray, or conduit.
If any changes were made in either MEP, architectural or structural models, MEP Hangers helps users update hangers quickly. Update size and position of multiple hangers with one click.
It is possible to do a multi-tier hanger configuration. Multiple unistrut (trapeze) hangers can be connected to the same rods, or other hangers can be connected to unistrut (trapeze).
Our tool works with insulated elements as well. For insulated pipes and ducts it is possible to select if hanger should be placed on the outside of insulation or ignore the insulation.
There are lots of different selection and filtering capabilities in MEP Hangers. Apply different rules (e.g. hanger spacing) or use different hangers depending on MEP element parameter values (size, length, etc) or set rules to filter which structural element hanger will attach to. Hangers can also extract specified parameters from their MEP elements (such as system type) and connected structures to help with the filtering, scheduling or graphic overrides.
Revit family library of the most common hangers for pipes, ducts, cable trays and conduits is provided. Tool also works with custom created hanger families that are face-based and have specific parameters.
There is capability to extract drilling points. Our provided families are populated with such elements that enables tool to extract precise coordinates of every drilling point. These coordinates can be fed to drilling robots.
MEP Hangers allows for very accurate material takeoffs. Hanger families have set of standard parameters to easily extract important information through Revit schedules. We use nested families that makes it possible to schedule every single bolt or nut.
Tool has spilt functionality for ducts, pipes, cable trays and conduits. Split MEP services into segments by predefined lengths.
MEP Hangers works with Revit fabrication elements as well.
There is an option to distribute hangers or supports along ducts, pipes, cable trays, or conduits that come with IFC format